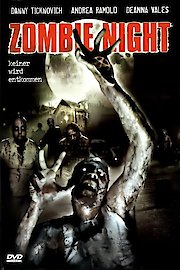 Watch Zombie Night
"No One Will Escape"
R
2004
1 hr 33 min
There were famines after World War I. There were broken veterans after World War II. There were zombies after World War III. Several years after nuclear weapons have devastated the planet and unleashed anarchy on the world, a small group of survivors struggle to stay alive in the wake of the undead. David, their leader, leads them from one safe house to the next, but what he hasn't mentioned to the others is that the zombies may not be their biggest threat at all.
You see, there used to be more members of the group. But they didn't leave quietly. And now they want revenge...
Zombie Night is a 2004 horror movie with a runtime of 1 hour and 33 minutes. It has received mostly poor reviews from critics and viewers, who have given it an IMDb score of 2.6.