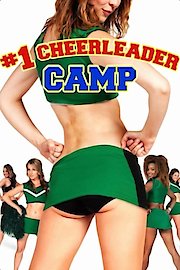 Watch 1 Cheerleader Camp
"Grab your spirit sticks!"
NR
2010
1 hr 35 min
One Cheerleader Camp is a 2010 film that follows the story of a cheerleading squad that is about to lose its spot in the national cheerleading championship due to financial challenges. In an attempt to save their team, the cheerleaders decide to attend a cheerleading camp that promises to teach them the latest cheerleading techniques and routines. The team, accompanied by their coach, Sandra, takes a bus ride to the camp, excited about the prospect of winning the national championship. On the journey, the cheerleaders indulge in some witty banter that showcases the different personalities on the team. The squad is made up of the typical cheerleading archetypes, including the popular girls, the nerds, and the misfits who all need to work together to make their championship dreams come true. Upon arrival at the cheerleading camp, the cheerleaders discover that the coaching staff is a group of ex-cons led by Coach Flynn (played by Seth Cassell), who uses unorthodox methods to teach cheerleading. The ex-cons start a regime of rigorous training, using intimidation and fear tactics on the girls. The team initially struggles with the training, but slowly starts to improve as they bond with each other and learn to work together. Along the way, they discover that Coach Flynn has an ulterior motive for running the cheerleading camp. As the story progresses, the team faces hurdles, including a rival team led by a scheming cheerleader, Heather (played by Erica Duke) who uses every trick in the book to win. The squad also struggles to overcome their personal demons and emotional baggage. Charlene Tilton, who plays the role of Coach Sandra, does an excellent job of bringing the team together and motivating them through her speeches. Despite the difficulties, the team members rise to the occasion, working hard to perfect their routine and make it to the national championship. The movie features some energetic cheerleading scenes, with the girls performing impressive stunts and acrobatics. The camera work captures these moments beautifully, providing a thrilling viewing experience. One Cheerleader Camp is a feel-good movie that inspires viewers to believe in themselves and work towards their goals despite the obstacles they may face. It shows the power of teamwork and highlights the importance of support from coaches, friends and family. Overall, the movie is a fun and entertaining watch, perfect for those who enjoy cheerleading and inspirational stories. Whether it's for a night in with friends or a solo movie night, One Cheerleader Camp is a delightful choice to lift your spirits.