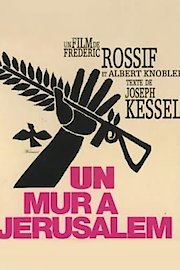 Watch A Wall in Jerusalem
A Wall in Jerusalem, both educational and immensely entertaining, tells the story of the struggle for the establishment of a Jewish homeland and the modern state of Israel. History comes alive through a chronological patchwork of fascinating rare archival footage dating back over 100 years that is stitched together by the compelling baritone narration of Richard Burton.
A Wall in Jerusalem is a 1968 documentary with a runtime of 1 hour and 29 minutes.