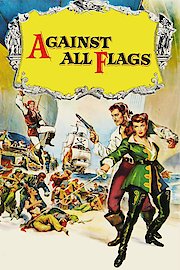 Watch Against All Flags
"He Ravished The Pirate Port Of Madagascar To Steal The Love Of Its Corsair Queen!"
R
1952
1 hr 23 min
Against All Flags is a swashbuckling adventure film from 1952 that stars Errol Flynn, Maureen O'Hara, and Anthony Quinn. Set in the 1700s, the movie follows the adventures of Brian Hawke (played by Errol Flynn), a British naval officer who goes undercover as a pirate to infiltrate and destroy the notorious pirate stronghold of Madagascar. When we first meet Brian, he is a loyal naval officer who is tasked with infiltrating the pirate fortress of Madagascar and putting an end to their raids on British ships. With the help of a cunning and beautiful woman, Prudence (played by Maureen O'Hara), Brian gains entry into the pirate haven by proving his worth in a duel with the pirate captain, Roc Brasiliano (played by Anthony Quinn). Once inside, Brian must navigate the treacherous waters of pirate politics, including betrayals and power struggles, in order to find and destroy the pirates' secret weapon, a massive, heavily armed ship known as the "Sheba Queen". Along the way, he also finds himself falling for Prudence, who may not be what she seems. The plot of Against All Flags is classic swashbuckling fare, with plenty of action and adventure to keep viewers entertained. The movie is filled with sword fights and naval battles, as well as a healthy dose of romance and intrigue. Errol Flynn is at his charming best as Brian, and Maureen O'Hara is a worthy foil as the cunning Prudence. Anthony Quinn steals scenes as the charismatic and ruthless Roc Brasiliano, who is equal parts charming and terrifying. One of the strengths of the movie is its attention to detail in its depiction of pirate life. The pirate stronghold of Madagascar is portrayed as a bustling and diverse community, with pirates of different nationalities and backgrounds working together. The scenes of pirate life in the taverns and on the high seas are lively and colorful, with plenty of drinking, gambling, and carousing. Another strength of the movie is its use of location shooting. Against All Flags was filmed on location in California's Catalina Island, and the stunning scenery is used to great effect. The ocean vistas and tropical landscapes are a feast for the eyes, and the naval battles are particularly thrilling. Overall, Against All Flags is a fun and entertaining adventure movie that is perfect for fans of swashbuckling tales. Errol Flynn is in top form as the dashing hero, and his interactions with Maureen O'Hara and Anthony Quinn are a delight to watch. The movie has plenty of action, romance, and intrigue to keep viewers engaged from beginning to end.