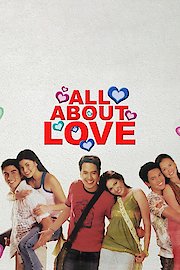 Watch All About Love
"All the surprises. All the pains, And all the joys of loving."
2006
1 hr 58 min
All About Love is a romantic drama film that was released in 2006. This Filipino movie was directed by Joyce Bernal and starred John Lloyd Cruz, Bea Alonzo, and Anne Curtis. It was produced by Star Cinema, one of the biggest film production companies in the Philippines. The movie reflects on the different dimensions of love, exploring the emotions and challenges that come with each one. The storyline revolves around three different couples, each with their own unique struggles and experiences. The first couple is composed of Kikay (Bea Alonzo) and Gio (John Lloyd Cruz), who have been in a long-term relationship for three years. Kikay is a fashion designer and Gio is a photographer, and their careers have begun to take a toll on their relationship. The two start to drift apart, but they are determined to rekindle their love. The second couple is made up of Laida (Anne Curtis) and Miggy (John Lloyd Cruz). Laida is a newbie journalist working for a magazine run by Miggy's family, and they fall in love despite their different backgrounds. Miggy, however, is still getting over his ex-girlfriend, who is also his co-worker, and this causes issues in his relationship with Laida. The third couple is Maya (Anne Curtis) and Andrew (John Lloyd Cruz), who are both lawyers. They meet at a work-related event and hit it off right away. However, Andrew is still coming to terms with his recent divorce, and Maya is hesitant to enter into a new relationship after a previous one ended in a tragedy. The movie shows how these three couples navigate their own relationship journeys, dealing with love, loss, and everything in between. All About Love has received positive reviews from critics and viewers alike. Its success can be attributed to the excellent performances of the lead cast, as well as its relatable and engaging storyline. The movie also tackles some serious issues, such as divorce, infidelity, and the fear of commitment, making it more than just your typical romantic drama. Overall, All About Love is a heartwarming and charming film that explores love in all its forms. It is a must-watch for anyone who wants to experience an emotionally engaging movie that will make them laugh, cry, and leave a lasting impression.