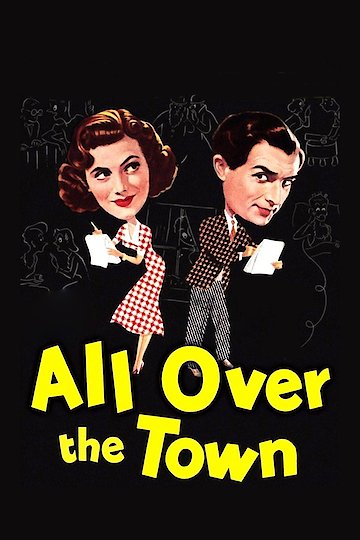 Watch All Over the Town
Approved
1949
1 hr 23 min
All Over the Town is a charming British comedy-drama released in 1949. Directed by Derek Twist, the movie stars Norman Wooland as Charles Wimble, an editor of a local newspaper in the town of Westport. The story revolves around the town's preparations for the annual Rose Day carnival. Charles, being the town's most famous journalist, is assigned to cover the event. However, as he begins his work, he becomes intrigued by a mysterious woman named Caroline, played by Sarah Churchill, whom he sees at the train station. Caroline is a former resident of the town who has returned after a long absence to settle some personal affairs. Charles's curiosity about her leads him to investigate her background, and he soon uncovers a secret that could shake the foundations of the town.
As Charles and Caroline get to know each other, they become involved in the preparations for the carnival, and their story intertwines with those of the other townsfolk. There's a young couple who are trying to start a new life together but are facing financial difficulties; a widow who is struggling to keep her small business afloat; and a group of young men who have formed a band and are hoping to make it big. With Charles's help, they all overcome their various obstacles and come together to make the carnival a success.
All Over the Town is a heartwarming movie that captures the spirit of small-town life in post-war Britain. The film's setting is beautifully shot, and the attention to detail is impressive, with many scenes filmed on location in Westport. The movie's themes of community spirit, resilience, and perseverance are timeless, and the characters are all relatable and engaging.
The film features an excellent cast, including Norman Wooland, who gives a convincing performance as the determined journalist Charles. Sarah Churchill, daughter of British Prime Minister Winston Churchill, is a standout as Caroline, bringing a sense of mystery and vulnerability to the role. The supporting cast includes Cyril Cusack as the town's lovable rector, Marjorie Fielding as the widow struggling to keep her business afloat, and Ronald Chesney, who provides plenty of comic relief as the hapless drummer in the band.
The movie's script, by John Dighton and Diana Morgan, is well-paced and flows smoothly, seamlessly blending the main plot with the subplots. The dialogue is witty and natural, and the film's use of humor adds a light touch to what could have been a rather heavy story.
All Over the Town may not be a well-known classic, but it is certainly worth watching for anyone looking for a charming and uplifting film. The movie's message of hope and community spirit is as relevant today as it was when the film was made over 70 years ago.