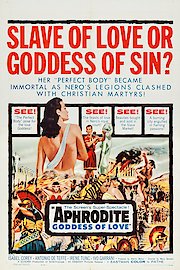 Watch Aphrodite - Goddess Of Love
"Another moment in ancient Rome's history where things don't turn out how you'd expect."
1970
1 hr 40 min
Antigonus, archon of Corinth, wants to build a magnificent temple dedicated to the goddess Aphrodite, for which the people are oppressed by new and very high taxes. The sculptor Demetrius, asked to make the face of the goddess Diana. He falls in love with a slave, the Christian Lerna. With the arrival of the plague, the people are increasingly discontented and Antigonus has easy game accusing...