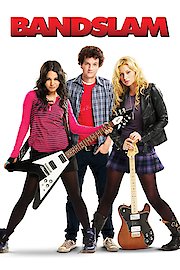 Watch Bandslam
"Band Together"
PG
2009
1 hr 51 min
66
Bandslam is a 2009 American musical comedy-drama film directed by Todd Graff and distributed by Summit Entertainment. The movie stars Aly Michalka, Vanessa Hudgens, and Gaelan Connell in lead roles. It revolves around a new student in a high school named Will Burton, played by Gaelan Connell, who is interested in music and plans to start his own band.
The movie begins with Will Burton switching schools after facing bullying and humiliation at his previous school. At his new school, he is welcomed by his classmate and neighbor, Sa5m (played by Vanessa Hudgens), who is an introverted outsider and has her own taste in music. She is a part of a band called "Glory Dogs" and is not at all interested in Will's idea of forming a band.
When Will discovers that the school's music competition 'Bandslam' is coming up, he decides to form a band to participate in it. He recruits a popular football player, Ben Wheatley (Scott Porter), to be the lead singer of his band, who had earlier taunted and humiliated Will. Meanwhile, Sa5m develops a liking towards Will but hides her feelings from him.
As the band starts practicing for the competition, they face several challenges, including Ben's insecurity and lack of confidence in his singing ability, the rivalry with the popular and talented band "I Can't Go On, I'll Go On" (ICOI) led by Charlotte Banks, played by Aly Michalka. Will's friend, Bug, played by Charlie Saxton, also brings his own quirks and comedic value to the band. Despite all these setbacks, the band continues to practice and prepare for Bandslam.
During the preparation for the competition, the characters' backstories and emotions surface, giving the audience a more in-depth perspective of their lives. The movie delicately touches upon themes like grief, heartbreak, acceptance, and friendship. The music, which is the central theme of the movie, is diverse, from classic rock to punk. An original song called "Everything I Own" composed by Antonina Armato and Tim James was written for the movie and performed by Vanessa Hudgens' character Sa5m.
As the competition approaches, Sa5m becomes distant towards Will, causing him to question their friendship. The night before the "Bandslam" competition, the band has a heart-to-heart conversation where they discuss their fears, dreams, and personal struggles. They vow to perform together, no matter the outcome.
At Bandslam, the band delivers a stunning performance, winning the competition. However, the victory brings its own setbacks as the members realize that they have to move on since each of them has differing goals and aspirations. Will also faces an unexpected twist in his personal life, which forces him to make a tough decision.
Bandslam is a coming-of-age story that manages to balance comedy, drama, and music effectively. The movie does an excellent job of highlighting the underdog protagonists who face several challenges but remain determined to achieve their goals. The musical numbers are enjoyable, and the performances are outstanding, especially by Gaelan Connell and Vanessa Hudgens. Overall, Bandslam is a feel-good movie that leaves the audience entertained and inspired.
In conclusion, Bandslam stands as a testament to the human spirit's resilience and connection through music, showcasing the power collaboration, friendship, and self-discovery can have on people's lives, especially young people trying to find themselves.
Bandslam is a 2009 comedy with a runtime of 1 hour and 51 minutes. It has received mostly positive reviews from critics and viewers, who have given it an IMDb score of 6.3 and a MetaScore of 66.