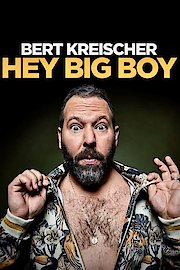 Watch Bert Kreischer: Hey Big Boy
2020
1 hr 2 min
Bert Kreischer: Hey Big Boy is a 2020 comedy special featuring the irreverent, larger-than-life comedian Bert Kreischer. The special was released on Netflix and is a hilarious mix of Kreischer's signature storytelling, outrageous physical comedy, and ad-libbed jokes. The special begins with Kreischer making his grand entrance, shirtless as always and carrying a drink, to raucous applause. He immediately launches into a story about his wife's love for pumpkin spice and how it nearly drove him insane, setting the tone for the rest of the hour-long set.
Throughout the special, Kreischer touches on a wide range of topics, from his experiences as a father and husband, to his wild and crazy days as a college student and beyond. He tells outrageous stories of his misadventures with drugs, alcohol, and even wild animals, all with his trademark self-deprecating humor and infectious laughter.
One of the standout moments of the special comes when Kreischer talks about his attempts to keep up with his fitness-minded wife, who has become obsessed with spin classes. He describes his first time trying the class, complete with exaggerated sound effects and physical comedy that has the audience in stitches.
Kreischer also shares some more personal stories, like the time he accidentally took his friend's daughter to a strip club on Bring Your Daughter to Work Day, and his struggles with anxiety and panic attacks. These moments provide a surprising amount of emotional depth to the special, showing that Kreischer is more than just a one-note comic.
One of the most impressive things about Hey Big Boy is Kreischer's ability to improvise and play off the audience. He frequently engages with members of the crowd, making jokes about their clothing, accents, or even their names. This creates a sense of spontaneity and energy that keeps the special feeling fresh and lively.
The special also features some fun visual gags, like a giant screen behind Kreischer that displays caricatures of him doing various activities, like playing guitar or riding a motorcycle. These visuals add another layer of humor to the set and help keep the audience engaged.
Overall, Bert Kreischer: Hey Big Boy is a hilarious and energetic comedy special that will leave viewers in stitches. With his larger-than-life personality and infectious laughter, Kreischer is a comedian unlike any other, and this special showcases his talent to the fullest. It's the perfect way to spend an hour laughing and forgetting about the stresses of everyday life.