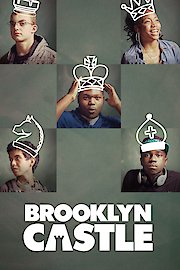 Watch Brooklyn Castle
"Imagine a school where the cool kids are the chess team. Welcome to I.S. 318"
PG
2012
1 hr 41 min
77
The 2012 documentary film Brooklyn Castles was considered one of the greatest documentaries out there. This film shows exactly how students live life nowadays, and how despite the economical issues and low incomes, there is still a chance in achieving a great life. This movie shows people that anything is possible, and that regardless of your background, dreams can be achieved. This film will capture anyone's hearts and will really make you touched. This is exactly why it received mostly positive reviews by movie critics ranking a 97% out of a 100%. The Brooklyn Castle film is a documentary that is all about the I.S. 318 which is an inner-city school with over 65% of the students living in homes that have incomes way below the average federal poverty level. However, despite that, these students go to a school that has the best chess team in all of America. Many have said that if Albert Einstein (rated 1800) were to join this team at this junior high school, he would be ranked the fifth best in the country. The simple game of Chess has amazingly transformed this school from being cited in the year of 2003 as one of the main schools in need of enhancement, to a school that is considered as one of New York City's greatest schools. However, after a series of economical issues and recession-driven, this pubic schools budget cuts have now threatened to really undermine those many hard-won successes. This film will teach more privileged students to be more grateful for what they have and how most students don't have the things they were given. This movie shows very talented, skillful, and smart children that were gifted to be great chess players. Despite the hard times they may be facing, that doesn't stop them from playing the game they love. It is a really great film that most people can relate to, but even the wealthiest of people could relate to this film. The Brooklyn Castles is such an amazing film that everyone should really consider to watch. The amazing story of the kids in this film will really bring tears to anyone's eyes. Anyone and everyone that watches this film will find it as inspirational and uplifting. Every family and individual should really consider to take the time to watch this specific film.