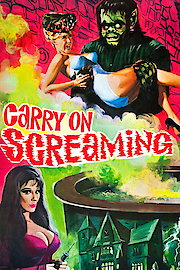 Watch Carry On Screaming!
"Carry On Screaming with the Hilarious CARRY ON Gang!!"
NR
1966
1 hr 37 min
Carry On Screaming is a horror film. The movie tells the story of a sinister man named Dr. Watt who is kidnapping young women and making the women into mannequins. He then sells the mannequins to department stores. Dr. Watt is able to get away with this evil plan because the detective who is on the case has no idea what is going on.