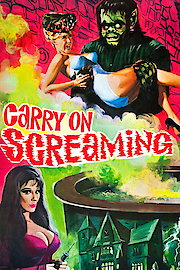 Watch Carry On Screaming!
"Carry On Screaming with the Hilarious CARRY ON Gang!!"
NR
1966
1 hr 37 min
Carry On Screaming! is a 1966 British horror-comedy film directed by Gerald Thomas and starring the popular Carry On ensemble cast, including Kenneth Williams, Jim Dale, and Harry H. Corbett. The film is a parody of the Hammer horror films of the 1950s and 60s, and follows the misadventures of Detective Sergeant Sidney Bung (played by Harry H. Corbett) and his clueless assistant Constable Slobotham (played by Jim Dale) as they investigate a series of bizarre disappearances in London. The film opens with a young woman named Joan (played by Angela Douglas) being abducted by a mysterious figure in a black hood, leaving behind only a single shoe. Bung and Slobotham are put on the case, but their investigation proves fruitless until they receive a tip-off from a creepy antiques dealer, played with relish by Kenneth Williams. The trail leads them to the sinister Bide-a-Wee Rest Home, where they encounter a motley crew of bizarre characters, including a hunchback butler named Oddbod (played by Tom Clegg), a seductive vampiress named Valeria (played by Fenella Fielding), and a mad scientist named Dr. Watt (played by Charles Hawtrey). As the investigation unfolds, Bung and Slobotham find themselves embroiled in a web of intrigue and danger, as they race against time to rescue Joan and unravel the mystery of the disappearances. Along the way, they encounter a host of absurd situations and comic set-pieces, including a hilarious scene involving a revolving bookcase, a runaway hearse, and a botched attempt to break into the rest home by the hapless detectives. The film is a classic example of the Carry On formula of bawdy humor, broad slapstick, and cheeky innuendo, and boasts a talented and well-loved cast of comedians. Kenneth Williams is particularly memorable as the lecherous antiques dealer, while Jim Dale and Harry H. Corbett make a great comedic duo as the hapless detectives. The film is also notable for its use of Gothic horror tropes, as it satirizes and subverts the conventions of the classic Hammer horror films. The creepy rest home setting, the mad scientist, and the vampiress all serve to parody the classic horror elements of the genre, while the film's humor and irreverence keep it firmly in the realm of comedy. Overall, Carry On Screaming! is a riotous and irreverent romp through the world of horror, filled with ridiculous characters, absurd situations, and plenty of laughs. It remains a beloved classic of British comedy to this day, and a must-see for anyone who loves irreverent humor and offbeat parodies.