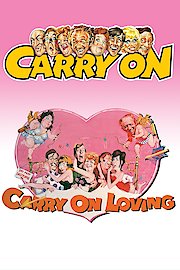 Watch Carry On Loving
"Their Mating Game is a Riot!"
1970
1 hr 28 min
A dating agency is dedicated to bring together people who have lonely hearts. However, the owner of this agency has his own problems in his love-life. Luckily, the owner of this agency manages to help people find some good matches for themselves. At the end, however, certain people begin to get jealous of each other. This leads to complete chaos. The owner of this agency must now forget about his own problems and help these people with theirs. The characters in this movie soon realize that a relationship comes with trials and tribulations, but love makes it all worth it.