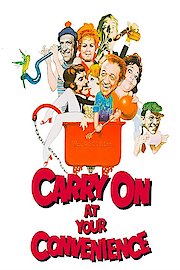 Watch Carry On at Your Convenience
NR
1971
1 hr 30 min
Carry On at Your Convenience is a British comedy film from 1971, directed by Gerald Thomas and produced by Peter Rogers. The movie is the twenty-second in the famous Carry On film series and features a star-studded cast including Sidney James, Kenneth Williams, Joan Sims, Bernard Bresslaw, Jacki Piper, and Charles Hawtrey. The film is set in a factory called W.C. Boggs & Sons, manufacturers of toilets and bathroom fittings. Sid Plummer (Sidney James) is the shop steward and union leader who is constantly at odds with the factory's management, especially the domineering and manipulative boss, W.C. Boggs (Kenneth Williams). Boggs is more interested in profits than the welfare of his workers, and he frequently clashes with Plummer over issues like wages, working conditions, and health and safety.
The story takes off when the factory starts to introduce machines that could replace human workers. The employees, led by Plummer, decide to take action against this move, and they go on strike. The management tries to break the strike through various tactics, including hiring scabs, but the workers remain steadfast in their demands. Meanwhile, romance blossoms between Plummer's daughter, Myrtle (Jacki Piper), and her boyfriend, Lewis Boggs (Richard O'Callaghan), the boss's son.
The movie is a typical Carry On comedy, full of wit, slapstick, and innuendos. The film's humor is a reflection of its era, with its commentary on the conflict between labor and management, sexual liberation, and changing social norms. The film's writing is sharp and satirical, with many memorable one-liners and sight gags. The film's production design is also impressive, with its depiction of a factory floor, the toilets, and the workers' living quarters.
The film's main draw is its stellar cast, which includes some of the best comic actors of their time. Sidney James is at his best as the rough-and-tumble shop steward, Sid Plummer. He brings his trademark swagger and charm to the role, making Sid a likable, if not entirely trustworthy, protagonist. Kenneth Williams, on the other hand, is deliciously villainous as the unscrupulous boss. He revels in his character's nastiness, delivering cutting lines and dirty looks with relish.
Charles Hawtrey, who was a staple of the Carry On series, also appears in the film as the hapless toilet cleaner, Vic Spanner. Hawtrey is in fine form here, providing many comic moments with his pratfalls, double entendres, and exaggerated facial expressions. Joan Sims, in a supporting role, is also a delight, playing the long-suffering wife of the factory's accountant. Her scenes with Williams are some of the film's funniest.
Carry On at Your Convenience is not without its flaws, however. The film's pacing can be slow at times, and some of the jokes may not land with modern audiences. The film's treatment of women and minorities is also dated, and its humor can be insensitive in places. Nonetheless, these faults do not detract too much from the film's overall enjoyment.
In conclusion, Carry On at Your Convenience is a classic British comedy that showcases the talent of some of the country's best comic actors. The film's satire of labor relations and sexual mores, combined with its witty writing and excellent production values, make it a must-see for fans of the Carry On series and British comedy in general.
Carry On at Your Convenience is a 1971 comedy with a runtime of 1 hour and 30 minutes. It has received moderate reviews from critics and viewers, who have given it an IMDb score of 6.2.