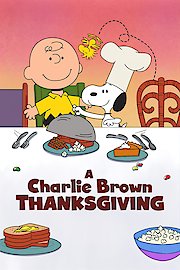 Watch A Charlie Brown Thanksgiving
"Spend Thanksgiving with good ol' Charlie Brown!"
TV-G
1973
25 min
"A Charlie Brown Thanksgiving" is a classic animated television special from 1973. Directed by Bill Melendez and produced by Lee Mendelson, the iconic film centers around Peanuts characters Charlie Brown, Snoopy, and their friends as they prepare for a Thanksgiving feast. The special begins with Charlie Brown receiving an invitation from his grandmother to go to her house for Thanksgiving. He initially accepts, but his friends - particularly Sally - express disappointment at the thought of Charlie Brown not celebrating the holiday with them. Moved by his friends' loyalty, Charlie Brown offers to host a Thanksgiving feast at his own home instead. Of course, things don't go quite as planned. With only a few days to prepare, Charlie Brown and his crew - including Linus, Lucy, and Peppermint Patty - scramble to gather ingredients, set up tables and chairs, and figure out how to cook a turkey. Along the way, they also try to entertain a group of unexpected guests, including Snoopy's bird friend, Woodstock. Despite the chaos, the gang manages to put together a charming and heartfelt Thanksgiving meal. Along with the classic Peanuts humor, the special also touches on themes of generosity, gratitude, and the true meaning of the holiday. One of the most memorable scenes in "A Charlie Brown Thanksgiving" is the dinner itself. Rather than a traditional meal, Charlie Brown and friends serve up a spread of toast, popcorn, pretzels, and jelly beans. It's a lighthearted moment that emphasizes the importance of spending time with loved ones, rather than the extravagance of the food. "A Charlie Brown Thanksgiving" has become a beloved holiday tradition for generations of viewers. The film has been re-aired numerous times since its original broadcast, and has also been released on DVD and Blu-ray. In addition, the special has inspired merchandise including stuffed animals, board games, and apparel. In conclusion, "A Charlie Brown Thanksgiving" is a charming and endearing look at the importance of togetherness, kindness, and simplicity during the holiday season. Its lovable characters and timeless messages make it a timeless classic and a staple of the Thanksgiving holiday.