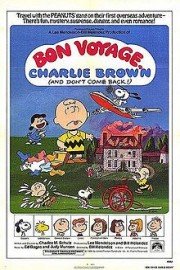 Watch Bon Voyage, Charlie Brown and Don't Come Back!!
G
1980
1 hr 16 min
68
Bon Voyage, Charlie Brown and Don't Come Back!! is a charming animated movie released in 1980. The film revolves around the lovable Peanuts characters, including Charlie Brown, Snoopy, and the gang, as they embark on an international adventure. What starts as a school trip to France soon turns into a wild and exciting journey as the group discovers the joys of travel, new cultures, and most importantly, friendship.
The movie opens with the Peanuts gang receiving an invitation from a French student named Violette to visit her family in Europe. Excited about the opportunity to explore a new country, Charlie Brown, Linus, Peppermint Patty, Marcie, and Sally join Snoopy and Woodstock as they set off on a grand adventure across the Atlantic. But things quickly take a turn for the worse when the group arrives in France and realizes that they have lost their luggage, passports, and money. Stranded in a foreign country, the gang must work together to overcome their challenges and make the most of their trip.
Throughout the movie, we see the Peanuts characters encounter many obstacles, from struggling to communicate with the locals to getting lost in the city's labyrinthine streets. These challenges test their bonds of friendship, but ultimately bring them closer together. As they navigate these unfamiliar territories, they learn important life lessons, such as the value of persistence, the importance of teamwork, and the power of laughter in the face of adversity.
Despite the movie's humorous tone and light-hearted themes, it also touches on some deeper issues, such as the complexities of international travel and the cultural clashes that can arise. The film highlights these issues with sensitivity and nuance, while still maintaining its overall lightheartedness and warmth.
One of the standout features of Bon Voyage, Charlie Brown and Don't Come Back!! is its beautiful animation. The movie was created using traditional hand-drawn animation techniques, giving it a unique and nostalgic feel. The landscapes and cityscapes depicted in the film are stunning, capturing the beauty and charm of France and providing a vivid backdrop for the adventures of the Peanuts crew.
Overall, Bon Voyage, Charlie Brown and Don't Come Back!! is a delightful animated film that is sure to appeal to audiences of all ages. It's a heartwarming story of friendship, perseverance, and adventure, with a healthy dose of comedy and charm thrown in for good measure. Whether you're a fan of the Peanuts gang or simply looking for a fun and uplifting movie to watch, this is one that you won't want to miss.