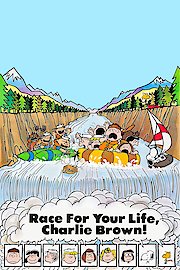 Watch Race for Your Life, Charlie Brown
"It's my new wilderness adventure! The entire "Peanuts" gang faces everything from bullies to rampaging rapids. "Good grief", will you have fun!"
G
1977
1 hr 16 min
55
Race for Your Life, Charlie Brown is a 1977 animated film based on the Peanuts comic strip characters created by Charles M. Schulz. The movie follows Charlie Brown, Snoopy, and the rest of the Peanuts gang as they embark on a wild and adventurous rafting trip. The movie begins with Charlie Brown, Snoopy, and their friends arriving at Camp Remote, a summer camp nestled in the Rocky Mountains. The gang is excited to have fun and make memories at the camp, but they are also nervous about competing in the annual rafting race.
As they prepare for the race, the gang meets their tough competitors, a group of bullies from Camp Ooh-Ahh. The bullies taunt and harass the Peanuts gang, making them even more determined to win the race.
Despite their best efforts, Charlie Brown and his friends struggle to keep up with their rivals during the race. They face many obstacles and challenges, including getting lost in the wilderness and encountering dangerous animals.
Along the way, the Peanuts gang learns valuable lessons about teamwork, perseverance, and the importance of staying true to oneself. They also realize that winning isn't everything and that having fun and enjoying the journey is just as important.
The animation in Race for Your Life, Charlie Brown is charming and nostalgic, with the familiar hand-drawn illustrations of the Peanuts characters. The soundtrack, featuring upbeat and catchy songs, adds to the movie's fun and lighthearted feel.
One of the strengths of the movie is its ability to balance humor with heart. The movie is full of silly and comical moments, such as Snoopy's antics, but it also has sincere and touching moments that tug at the heartstrings.
Overall, Race for Your Life, Charlie Brown is a fun and entertaining movie that captures the spirit of adventure and friendship. It's a nostalgic trip down memory lane for those who grew up with the Peanuts gang, and it's a delightful introduction to the lovable characters for younger audiences.
Race for Your Life, Charlie Brown is a 1977 kids & family movie with a runtime of 1 hour and 16 minutes. It has received moderate reviews from critics and viewers, who have given it an IMDb score of 7.2 and a MetaScore of 55.