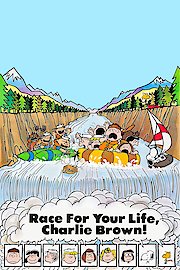 Watch Race for Your Life, Charlie Brown
"It's my new wilderness adventure! The entire "Peanuts" gang faces everything from bullies to rampaging rapids. "Good grief", will you have fun!"
G
1977
1 hr 16 min
55
Charlie Brown and the gang are really looking forward to their upcoming summer vacation and the time they will spend at summer camp. The gang decides to enter a raft race down the river to add some excitement to their vacation. They wind up getting much more than they had bargained for. A rival gang of bullies from the camp across the river also enters the race and is determined to see Charlie Brown and his gang lose. Now the gang has to battle the river, the rival gang, and the wild animals that seem to want to take everyone out of the race just to finish in one piece.