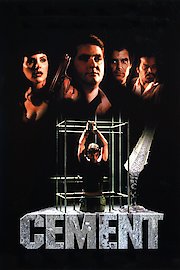 Watch Cement
"When cops are on the take, betrayal is set in stone."
R
1999
1 hr 35 min
Cement is a gritty crime drama that tells the story of three lifelong friends from Brooklyn who become entangled in a gangster's bid for power. Directed by Adrian Pasdar and released in 2000, the film features an ensemble cast that includes Chris Penn, Jeffrey Wright, and Anthony DeSando. The movie opens with the three friends - Teddy (Penn), Anthony (DeSando), and Armando (Wright) - sitting in a car, discussing their plans for the future. Teddy is a debt collector who dreams of opening a club, Anthony is a low-level drug dealer who wants to go straight, and Armando is a boxer who has been suspended from the ring for hitting a referee.
Their lives are soon turned upside down when they come into contact with a ruthless gangster named Cement (Vicent D'Onofrio), who is trying to take over the Brooklyn drug trade. Cement offers the three friends a chance to get in on the ground floor of his operation, but they soon realize that he's not someone to be messed with.
As Cement's power and influence grow, the friends find themselves in increasingly dangerous situations. Teddy starts dating Cement's girlfriend (Sherilyn Fenn) behind his back, Anthony becomes addicted to the drugs he's supposed to be selling, and Armando is forced to fight in illegal boxing matches to help Cement's operation.
As tensions rise and loyalties are tested, the three friends must decide whether to stick together or go their separate ways. Along the way, they encounter a cast of colorful characters, including a crooked cop (Michael Rapaport) and a vengeful drug dealer (Adrien Brody).
The film is notable for its authentic portrayal of Brooklyn street life in the late 1990s, as well as its strong performances from the ensemble cast. Penn, in particular, delivers a standout performance as the conflicted Teddy, torn between his loyalty to his friends and his desire for something more.
Despite its grim subject matter, Cement manages to infuse moments of humor and humanity into its portrayal of the criminal underworld. The film's themes of loyalty, betrayal, and redemption resonate long after the credits have rolled.
Cement received mixed reviews upon its release, with some critics praising its gritty authenticity and strong performances while others criticized its choppy editing and confusing plot. Nevertheless, the film has developed a cult following in the years since its release, with many viewers appreciating its unflinching depiction of the harsh realities of urban life.
Overall, Cement is a compelling crime drama that offers a glimpse into the seedy underbelly of Brooklyn's criminal underworld. Featuring strong performances and a gripping plot, it's a must-see for fans of gritty crime films.