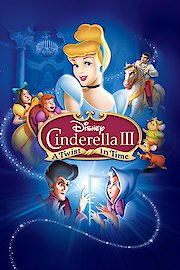 Watch Cinderella III: A Twist in Time
"What if the slipper didn't fit?"
G
2007
1 hr 15 min
Cinderella III: A Twist in Time is a princess cartoon story starring Cinderella. A year after Cinderella and the prince got married, the Fairy Godmother's wand goes missing. Cinderella's step sister Anastasia discovers it. A fight ensues and the Fairy Godmother is turned into a statue. Cinderella's step mother puts it all together and uses the wand to change time. They end up back before Cinderella is revealed to be the owner of the glass slipper. The slipper is made bigger and it fits Anastasia's foot. The other slipper is disposed of and Anastasia is whisked off to the place to marry the prince. Cinderella knows there is something wrong, so she slips into the castle with her mice friends. Once again, the step mother alters events this time changing the prince's thoughts on who he really met that night. A wedding is now being planned between Anastasia and the prince. Cinderella knows this is not right and pursues the prince to restore his altered thoughts. The step mother sees what she is doing and makes it so Cinderella is banished and sent on the next ship leaving. Cinderella's mice friends find and explain to the prince what happened and where Cinderella is. His thoughts are corrected and he runs after Cinderella. At the last moment, the prince rescues Cinderella and brings her back. The step mother and Anastasia escape by using the wand again. The prince and Cinderella begin to prepare for their upcoming wedding, when the step mother strikes again. The wand has now been used to turn Anastasia into a look alike Cinderella. Cinderella and her mice friends were sent barreling down into the forest with death in sight. At the last moment, the mice save the day. Cinderella hurries back to the palace to stop the wedding. As she gets there, Anastasia's conscience gets the best of her and she confesses the truth of who she really was much to her mother and sister's disappointment. The step mother is enraged and tried to use the wand once again, only it backfires. They are turned into toads. The Fairy Godmother is restore to her former self and she proposes that she could turn back time so none of this would have happened, but Cinderella and the prince say no. They are married once again.