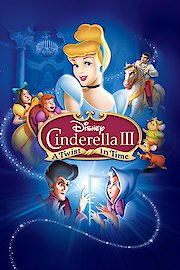 Watch Cinderella III: A Twist in Time
"What if the slipper didn't fit?"
G
2007
1 hr 15 min
Cinderella III: A Twist in Time is a 2007 direct-to-video animated film, produced by DisneyToon Studios. The movie is the third instalment in the Cinderella franchise, following Cinderella (1950) and Cinderella II: Dreams Come True (2002), and takes an intriguing twist on the classic fairytale. In this movie, Cinderella marries Prince Charming and lives happily ever after until her wicked stepmother, Lady Tremaine, finds the Fairy Godmother's wand with a little magic left in it. She uses this magic to turn back time and prevent Cinderella from attending the ball, which consequently leads to a new version of the story. Cinderella III: A Twist in Time features a standout cast of voice actors who bring the beloved characters to life. Jennifer Hale lends her voice to Cinderella, Christopher Daniel Barnes to Prince Charming, Susanne Blakeslee to Lady Tremaine, and Tress MacNeille to the Fairy Godmother. Despite being a direct-to-video release, the animation quality in Cinderella III: A Twist in Time is impressive, with stunningly detailed backgrounds and fluid movements. The music in the movie is equally delightful, with familiar tunes from the original film mingled with new, catchy songs, adding depth to the story. The storyline of Cinderella III: A Twist in Time is engaging and captivating, as it presents an innovative take on the traditional tale. The movie challenges the notion of a predetermined fate and explores the consequences of altering destiny. It also touches on important themes of perseverance, love, and family. Throughout the film, Cinderella remains a strong and capable character, showing her resourcefulness in finding ways to defeat her stepmother's wicked schemes. She is resolute in her quest to reunite with Prince Charming and stands up for herself when faced with Lady Tremaine's cruelty. Prince Charming also takes a more active role in this film, displaying a loyalty and devotion towards Cinderella that is endearing to watch. He is quick to act on his feelings, unlike the reserved prince we saw in the original movie, and he plays an instrumental part in saving the day. As for Lady Tremaine, she remains a nefarious antagonist who dominates every scene she appears in. Her plan to stop Cinderella and Prince Charming from living happily ever after is twisted and devious, making her a villain that audiences are sure to hate. Cinderella III: A Twist in Time is a charming and delightful film that will appeal to both children and adults. The movie is more than just a retelling of a classic fairytale; it tackles important themes and adds depth to the characters we know and love. The animation is stunning, the music is catchy, and the voice acting is top-notch. It is a movie that will leave viewers satisfied and entertained, reinforcing the message of hope and love. In conclusion, Cinderella III: A Twist in Time is a worthy addition to the Cinderella franchise, offering a unique take on the classic tale. The movie boasts a talented voice cast, stunning animation, and a captivating storyline, making it a must-watch for anyone who loves fairytales. It has the right mix of heart, humour, and drama, making it an enjoyable experience from beginning to end.