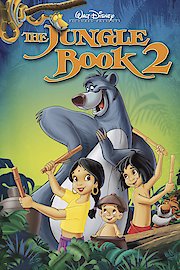 Watch The Jungle Book 2
"Feel the jungle beat"
G
2003
1 hr 12 min
38
The Jungle Book 2 is an animated film that is geared towards children. This movie a sequel to another animated production. This movie features the voices of Haley Joel Osment and John Goodman. The story returns to follow Mowgli who followed a girl to the village and is now living among his fellow humans. Her name is Shanti. Also is the home is Ranjan. Mowgli wants to return to the jungle but whenever he tries to leave he ends up getting in trouble. He misses his wild ways, his friends, and his freedom. While Mowgli is living with people the tiger Shere Khan has returned to the jungle. He is trying to get revenge on Mowgli. The bear Baloo comes to the village to warn him. While they are off in the jungle Shere Khan enters the village but is chased off by the villagers. Shanti and Ranjan head into the jungle to find Mowgli. They do not know that Baloo is his friend and thinks he has been kidnapped. Bagheera hears that Mowgli is in the jungle and goes out to look for him. Meanwhile Baloo and Mowgli run into Shanti and Baloo is instructed to scare her and her bother off. When they find out that Mowgli made him do this they get mad and leave Mowgli in the jungle. Shere Khan finds the humans and attacks them. Baloo and Mowgli go to save them but Share Khan chases the children and ends up trapped in a statues mouth in a lava pit. With the tiger out of the way Mowgli and the children are now safe again. Mowgli decides to return to the man village. He keeps in contact regularly with Baloo, Bagheera, and his other friends in the jungle.