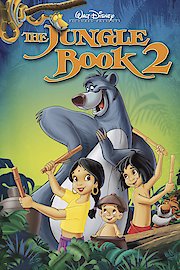 Watch The Jungle Book 2
"Feel the jungle beat"
G
2003
1 hr 12 min
38
The Jungle Book 2 is a 2003 animated movie, directed by Steve Trenbirth and produced by DisneyToon Studios. It is a sequel to the 1967 movie The Jungle Book and is loosely based on Rudyard Kipling's book of the same name. The Jungle Book 2 follows the adventures of Mowgli, a young boy raised by wolves in the jungle. Mowgli has now befriend humans in the village and is torn between his two worlds - the jungle and the village. The movie starts with Mowgli sneaking back into the jungle to visit his old friends, Baloo the bear and Bagheera the panther. But things have changed in the jungle since he was last there. There's a new villain in town, the human hunter, named Buldeo who has come to the jungle to capture Mowgli. Buldeo is aided by the manipulative Shere Khan, an evil tiger who has a score to settle with Mowgli. Meanwhile, Mowgli's new life in the village is also in jeopardy as his adoptive father doesn't want him to go back to the jungle. Mowgli's adventure takes him back and forth from the jungle to the village as he tries to find a way to stay with his jungle friends and fend off Buldeo and Shere Khan. Along the way, he meets Kaa, a giant snake who is more helpful than harmful and learns a valuable lesson about being true to oneself and following one's heart. The storyline of The Jungle Book 2 is predictable, but the animation is a treat for the eyes. The colors are vibrant, and the backgrounds are detailed, making the jungle seem alive. Plus, the musical numbers are catchy and fun, particularly "Jungle Rhythm" and "W-I-L-D." The voice acting is also top-notch, with John Goodman reprising his role as Baloo, Haley Joel Osment as Mowgli, and Tony Jay as Shere Khan. Jim Cummings, the voice of Winnie the Pooh also makes an appearance as Kaa. The Jungle Book 2 isn't groundbreaking, but it's a fun, family-friendly movie that continues the story of Mowgli and his friends. It's a feel-good movie with a heartwarming message about friendship and loyalty. The Jungle Book 2 is perfect for kids, but also has enough appeal to keep adults entertained as well. Overall, The Jungle Book 2 is an enjoyable and entertaining movie, with a great cast of characters, beautiful animation, and catchy songs. It's not as iconic as its predecessor, but it manages to capture the spirit of the original, and is definitely worth a watch.