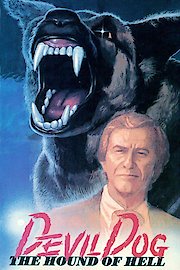 Watch Devil Dog: The Hound of Hell
"Man's best friend... or the devil's spawn?"
NR
1978
1 hr 35 min
Devil Dog: The Hound of Hell is a thrilling horror movie from 1978 starring Richard Crenna, Yvette Mimieux, and Kim Richards. The movie follows the story of a suburban family who becomes the unwitting target of a demonic presence after adopting an adorable puppy. The Taylor family, consisting of husband Mike (Crenna), wife Betty (Mimieux), and their two children Bonnie (Richards) and Charlie, lead an idyllic life in their comfortable suburban home. When they come across an abandoned puppy, they immediately take it in and name it Lucky. However, they soon discover that Lucky is anything but an average pet. Mysterious events begin to occur around the house, and the family members start behaving erratically. They soon realize that Lucky is not a cute and cuddly puppy but an incarnation of Satan himself. The family must fight to protect their souls and save themselves from the clutches of the devil. As they try to ward off the evil forces that have invaded their home, they enlist the help of a priest named Father Braun. He sets out to perform an exorcism to save the family and banish the devil dog back to hell. The movie keeps the audience on edge as the family members fight against the devilish forces that have overtaken their lives. The tension builds with each passing moment leading to a captivating and nerve-wracking climax. The movie features impressive performances by the lead cast, who bring the characters to life with their portrayal of genuine fear and desperation. Richard Crenna is convincing as the family's patriarch, who is determined to save his family from the horrors they are experiencing. Yvette Mimieux delivers an equally compelling performance as the concerned wife and mother who is wrestling with her beliefs and fears. Kim Richards, in one of her earliest roles, brings a charming and innocent quality to her character as the daughter who is caught up in the middle of the chaos. Additionally, the supporting cast also delivers strong performances, especially R.G. Armstrong, who plays Father Braun. The movie's direction by Curtis Harrington is excellent, with the use of atmospheric lighting and a haunting score that heightens the suspense and terror of the film. The special effects, given the movie's era, are impressive and held up reasonably well considering current standards. Overall, Devil Dog: The Hound of Hell is an entertaining and frightening horror movie with strong performances, a thrilling plot, and effective direction. The movie has aged well and still has the capacity to provide a terrifying experience for fans of horror movies. It is an underrated gem for fans of the 1970s horror genre that will keep them intrigued until the very end.