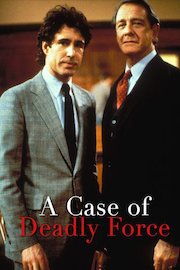 Watch A Case of Deadly Force
NR
1986
1 hr 35 min
A Case of Deadly Force is a 1986 made-for-TV movie that explores the aftermath of a controversial shooting by a police officer. The film stars Richard Crenna as Lieutenant Frank Janek, a seasoned detective who is tasked with investigating the circumstances surrounding the shooting of an unarmed black man by a white police officer. John Shea plays Officer William "Billy" Butler, the officer at the center of the controversy. The shooting occurs when Butler and his partner approach a stolen car and confront its driver, who they believe to be armed. In the ensuing confrontation, Butler shoots the driver, who is later found to be unarmed.
The shooting sparks outrage and protests from the black community, who see it as yet another instance of police brutality against black people. The investigation into the shooting is further complicated when it is revealed that Butler has a history of excessive force complaints against him.
Butler's defense is that he believed the driver had a gun and that he feared for his own safety. However, eyewitness accounts and other evidence suggest that the shooting may have been unjustified.
As the investigation unfolds, Lieutenant Janek must navigate the complex web of politics, race relations, and police culture to uncover the truth about what happened that night. He faces pressure from all sides, including his superiors who are eager to sweep the incident under the rug, and the community activists who demand justice for the victim.
Lorraine Toussaint plays Valerie Alston, a civil rights lawyer who represents the victim's family in their pursuit of justice. She clashes with Lieutenant Janek in her quest to hold Butler accountable for his actions, but eventually the two find common ground as they work together to uncover the truth.
A Case of Deadly Force is a gripping drama that raises important issues about police brutality, race relations, and the need for accountability in law enforcement. The film doesn't shy away from the difficult and uncomfortable questions raised by the shooting, and it refuses to offer easy answers or solutions.
Instead, it challenges viewers to grapple with the complexities of the issue and to consider the competing interests and perspectives involved. It's a thought-provoking and intense drama that is sure to resonate with anyone who cares about issues of justice and equality.
A Case of Deadly Force is a 1986 drama with a runtime of 1 hour and 35 minutes. It has received moderate reviews from critics and viewers, who have given it an IMDb score of 6.2.