Watch Doctor Strange
"Open your mind. Change your reality."
Stephen Strange is a top neurosurgeon whose career is ruined after he is injured in a horrific car accident which causes him to lose the use of his hands. When traditional medicine fails him, he goes on a journey determined to find a way to be healed. He comes across a sorcerer who shows him that he has strong powers within himself that he never realized. When he learns that there are unseen dark forces bent on destroying our reality, he is forced to decide whether to return to his old life or leave it all behind to defend the world using his newly acquired magical powers.
|
2016
|
2 hr 10 min
|

/

10
Cast

Studio

Director

Scott Derrickson

Language

English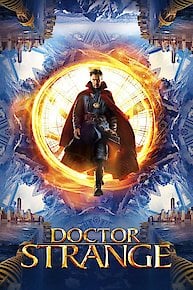 Doctor Strange News
Weekend Box Office: A Good Weekend for Escaping to the Theater
Americans apparently needed a break from the real world this weekend, as a trio of fantasy films did especially good business at the box office.
New Movies November 4: 'Doctor Strange' is Set to Rule the Box Office
A new Marvel movie is expected to dominate the box office this week, but two other new movies could shake things up, as well.
Weekend Box Office: 'Doctor Strange' Makes Magic Happen
The new Marvel movie rockets to number one, and another new movie make a very strong showing in second place.

Watch Doctor Strange Trailer
Watch Doctor Strange Online - Watch online anytime anywhere: Stream, Download, Buy, Rent
Doctor Strange is currently available to watch and stream, download, buy, rent on demand at Netflix, Amazon, Vudu, Google Play, FandangoNow, YouTube VOD, iTunes online.