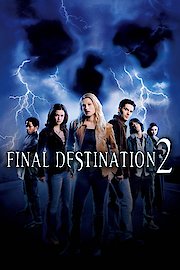 Watch Final Destination 2
"For every beginning there is an end."
R
2003
1 hr 30 min
38
Final Destination is a modern day horror classic that continues upon the epic saga that 2000's box office smash hit Final Destination started. It is a truly horrifying supernatural thriller that is sure to keep viewers on the edge of their seats. Final Destination 2 begins one year after the tragic explosion of flight 180 in Final Destination. College student Kimberly Corman is taking a road trip to Daytona Beach during spring break. While driving Kimberly is overcome with a supernatural premonition that causes a massive wreck on Route 23. After experiencing the premonition Kimberly stalls her car in an attempt to prevent the accident from happening and manages to save a group of eight strangers all from different backgrounds from the untimely death they were destined for. However Kimberly was unable save three of her best friends from dying in the accident. The survivors who Kimberly rescue from death in the accident soon learn that they were destined to die in the wreck and death will be around every corner until they are all killed off, as survivors start to slowly die off from freak accidents. The remaining survivors are in an all-out race against time and death, and they must collaborate with the few survivors of the flight 180 explosion to find out how to beat death and change their destiny. Much like the original Final Destination, Final Destination 2 was a major box office hit making a whopping 16 million during its opening weekend and a grand total of 90 million from domestic and foreign box offices. The critical response for Final Destination 2 was overwhelmingly positive. The film received positive reviews from several major film critics. The film was also a major success at awards shows also, receiving various prestigious awards and nominations from award shows such as the MTV Movie Awards and Teen Choice Awards.