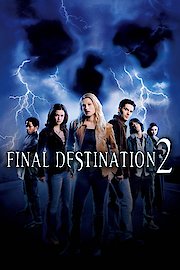 Watch Final Destination 2
"For every beginning there is an end."
R
2003
1 hr 30 min
38
Final Destination 2 is a 2003 horror movie that revolves around six people who cheat death, but it catches up to them when they least expect it. The movie follows Kimberly Corman (A.J. Cook), who is on a road trip with her friends when she has a premonition of a deadly car crash. She manages to get some of the cars off the road, but death comes for those who survived the crash in unexpected ways.
As the movie progresses, it becomes evident that death will not rest until it claims all the survivors from the crash. The movie is a classic slasher film with scenes that are designed to be gruesome and violent. One notable feature of the movie is its use of symbolism and foreshadowing to give the audience hints of what is to come.
The movie's cast is diverse, with each character having a unique personality that helps to give them individuality. Ali Larter plays Clear Rivers, who is a survivor from the first movie, and Tony Todd plays a coroner who seems to know more than he lets on. The acting in the movie is decent, with each actor putting in an effort to make their characters believable.
The movie is set in a world where fate and death are inextricably linked, and every event that occurs leads to death in some way. The movie adopts a cynical view of life, where random events and coincidences can mean the difference between life and death. The movie's overall tone is dark, with the tension steadily increasing as the movie progresses.
One of the movie's most impressive aspects is its use of special effects. The death scenes are graphic and realistic, with the movie using practical effects to create gruesome and gory scenes. The use of practical effects adds a level of realism to the movie, as opposed to relying entirely on CGI.
However, one of the movie's biggest flaws is its predictable plot. While the movie tries to be unpredictable at times, the formulaic nature of the Final Destination franchise is evident. The movie's ending is somewhat satisfying but also leaves some questions unanswered, leaving room for the next installment.
In conclusion, Final Destination 2 is a classic slasher film that delivers on its promises of gore and violence. The movie's use of practical effects adds a level of realism that is lacking in other movies of this genre. While the movie's plot is predictable, its dark and cynical tone and impressive special effects make up for its shortcomings.
Overall, Final Destination 2 is a must-watch for horror movie fans who enjoy a suspenseful and gory film.
Final Destination 2 is a 2003 horror movie with a runtime of 1 hour and 30 minutes. It has received mostly poor reviews from critics and viewers, who have given it an IMDb score of 6.2 and a MetaScore of 38.