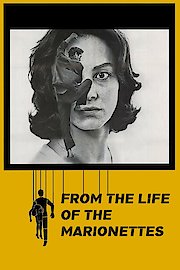 Watch From the Life of the Marionettes
"The Woman He's About to Touch is a Dream. The Murder He's About to Commit is Not."
R
1980
1 hr 44 min
From the Life of the Marionettes is a 1980 fantasy film that takes place in a town in provincial Paris. The puppet master Neso has passed away, and the puppets he has constructed have come to life as a result of his passing, each having acquired a piece of his soul. His daughter then arrives to settle his affairs and is instructed by the dolls that if she would like to release her father from the cursed life he was now subject to, she'd have to find a replacement soul.