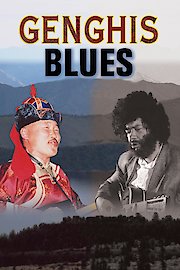 Watch Genghis Blues
NR
1999
1 hr 28 min
Genghis Blues is a 1999 documentary film directed by Roko Belic that chronicles the journey of blind American blues musician Paul Pena as he travels to the Tuva Republic in Central Asia to participate in an annual throat-singing competition. Along the way, Pena meets Kongar-ol Ondar, a renowned Tuvan throat singer, and the two musicians develop a deep friendship through their shared love of music.
The film opens with Pena's blues music and his personal story - his struggles with blindness, obesity, and diabetes. He discusses how he stumbled upon the strange and haunting Tuvan throat singing while listening to a shortwave radio program one night. Fascinated by this otherworldly sound, Pena taught himself how to throat sing and incorporated the style into his own music.
Pena's fascination with Tuvan throat singing becomes an obsession, and he eventually decides to travel to Tuva to participate in the annual throat-singing competition. This journey is no easy feat, as Tuva is an isolated republic sandwiched between Russia and Mongolia, and few Westerners have ever set foot there. Pena must navigate through bureaucratic red tape, language barriers, and cultural differences in order to reach his goal.
Once in Tuva, Pena meets Kongar-ol Ondar, an internationally renowned throat singer who takes him under his wing. Ondar introduces Pena to the culture of the Tuvan people and invites him to perform with his own ensemble at the competition. Pena is awestruck by the beauty of Tuvan music and the hospitality of its people. The film captures the stunning landscapes of Tuva, from its rugged mountains to its vast steppes, and showcases the rich cultural heritage of a people who have long been isolated from the rest of the world.
Throughout the film, Pena's health takes a turn for the worse due to his diabetes, and he struggles to keep up with the rigors of the journey. Nevertheless, his determination and passion for music keep him going, and he ultimately realizes his dream of performing Tuvan-style blues at the competition.
Genghis Blues is a truly unique and captivating film that explores the power of music to transcend cultural and linguistic barriers. The film's stunning visuals, haunting Tuvan music, and heartwarming human stories combine to create a truly unforgettable viewing experience. This documentary not only introduces viewers to a little-known culture, but also highlights the transformative power of music and the unifying nature of art.
Genghis Blues is a 1999 documentary with a runtime of 1 hour and 28 minutes. It has received mostly positive reviews from critics and viewers, who have given it an IMDb score of 7.8.