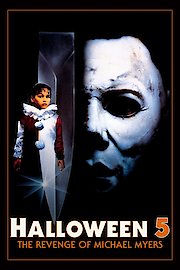 Watch Halloween 5: The Revenge of Michael Myers
"Michael Lives, And This Time They're Ready!"
R
1989
1 hr 36 min
28
"Halloween 5: The Revenge of Michael Myers" is the fifth installment in the lucrative "Halloween" horror film series. It was directed by Domenique Othenin-Girard and stars Donald Pleasence, Ellie Cornell, and Danielle Harris. The film chronicles the third killing spree of serial killer Michael Myers, who is determined to kill his young niece Jamie (Harris). The first two films in the "Halloween" series covered Michael's attempts to kill his sister Laurie, who lived in his hometown of Haddonfield, Illinois. The third film had an independent story-line that had nothing to do with the rest of the series. "Halloween 4" picked up the Myers storyline ten years later, as Michael returned to stalk his niece. Its box office success convinced the film's producer, Moustapha Akkad, to produce a fifth chapter. "Halloween 5" is set one year after the events of the fourth film, which ended with Myers being shot and falling into a mineshaft, followed by Jamie stabbing her stepmother. This left audiences with the implication that Jamie would be the killer in the next "Halloween" installment. However, the film reveals that Jamie is now mute and lives in a psychiatric hospital. Meanwhile, Michael has been in hiding for the past year. When October rolls around again, Myers returns to Haddonfield to stalk Jamie. Meanwhile, a mysterious man in black arrives in town. Michael Myers also stalks Jamie's stepsister Rachel (Cornell) and her friends, including Tina (Wendy Kaplan), Samantha (Tamara Glyn), Spitz (Matthew Walker), and Mike (Jonathan Chapin). Myers eventually kills all of them. In the second half of the film, he chases Jamie through the abandoned Myers house, where Michael lived as a child. Dr. Sam Loomis (Pleasence) returns to once again hunt down Myers. Loomis continues to lose his grip on his sanity as his frustration with stopping Myers continues. He uses Jamie as bait in an attempt to capture Myers. The Haddonfield police are also involved once again. Beau Starr reprises his role as Sheriff Meeker from "Halloween 4: The Return of Michael Myers". The police try, and usually fail, to protect Jamie from Michael and the mysterious man in black. "Halloween 5" is more stylish and atmospheric than most of its predecessors. It has a sharp title sequence involving a butcher knife slicing quickly through a pumpkin, creating a jack-o-lantern. Most of the film is set at night, with the characters often shrouded in mist and fog. Othenin-Girard was determined to leave his personal touch on the film.