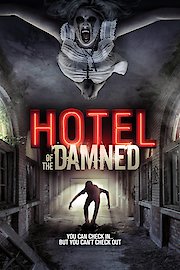 Watch Hotel of the Damned
"No matter how bad things are..They can always get worse"
2016
1 hr 24 min
In the 2016 horror-thriller film, Hotel of the Damned, a group of strangers finds themselves trapped in an eerie and isolated hotel in the middle of the Romanian countryside. Directed by Bobby Barbacioru, the film stars Peter Dobson as Jack, Manuela Harabor as Sarah, and Oltin Hurezeanu as Victor. The movie begins with a group of six strangers who are traveling through the Romanian countryside. After their vehicle breaks down, they are forced to seek shelter for the night in a nearby hotel. As they settle in to rest, they quickly realize that something is not quite right with the hotel. The staff seems unusually cold and distant, and strange occurrences begin to happen throughout the building. As night falls, the strangers soon find themselves trapped inside the hotel with no way out. The doors and windows are all locked from the outside, and they quickly realize that they are not alone. There is something sinister lurking in the shadows, and it seems to be picking them off one by one. As they struggle to survive, the group begins to unravel the dark history of the hotel. They learn that it was once a sanatorium for children with tuberculosis, and that many of the patients died in the building. They also discover that the hotel has a reputation for trapping and killing its guests, and that the staff may be working with the evil forces that haunt the building. As tensions rise and paranoia sets in, the group is forced to confront their deepest fears and darkest secrets. They must work together to unravel the mystery of the hotel and find a way to escape before it's too late. Hotel of the Damned is a suspenseful and chilling horror film that will keep audiences on the edge of their seats. With its creepy setting, eerie atmosphere, and strong performances from the ensemble cast, it is a must-see for horror fans. The film's twisted plot and haunting visuals will leave viewers feeling uneasy long after the credits roll. Overall, Hotel of the Damned is a well-crafted and thrilling horror film that is sure to delight fans of the genre. Whether you're a seasoned horror aficionado or just looking for a spooky night in, this movie is definitely worth watching. Just be sure to leave the lights on when you go to bed.