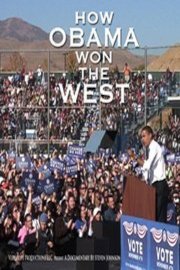 Watch How Obama Won the West
A political road trip through the American West on the eve of the historic 2008 election. Frustrated by the lack of coverage of issues and politics that matter to the Western United States, filmmaker Steven Johnson drove almost 4000 miles to talk with citizens about what mattered to them, film the beautiful landscapes and tried to discover what change really means. The documentary focuses on three key battleground states: Nevada, Colorado and New Mexico - states that were important for the two campaigns in 2008 and that may be crucial to win in 2012. Johnson followed the Obama and McCain campaigns (including the impact of Sarah Palin), their grassroots operations and interviewed local experts on the issues and politics that impact the West.
How Obama Won the West is a 2011 documentary with a runtime of 57 minutes. It has received mostly poor reviews from critics and viewers, who have given it an IMDb score of 4.8.