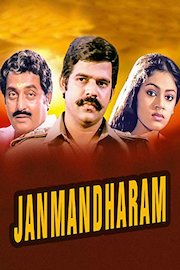 Watch Janmandharam
NR
1988
2 hr 20 min
Janmandharam is a 1988 Indian Malayalam-language drama film directed by Thampi Kannanthanam and starring Balachandra Menon, Asokan, and Siddique in lead roles. The story of the film revolves around the life of Indu (Sreevidya), a woman who sacrifices her life for the sake of her family. Indu, the daughter of Anandan Nair (Thilakan), is forced to marry Ravi (Balachandra Menon), a wealthy businessman. However, Ravi is not interested in having a married life and instead spends his time with his friend, Mukundan (Siddique). Indu tries to adjust to her new life, but Ravi neglects her and their marriage slowly turns sour.
Meanwhile, Anandan Nair's business suffers losses, and he becomes heavily indebted to Ravi. Ravi takes advantage of Anandan Nair's plight and tries to acquire his property, but Indu intervenes and pleads with Ravi not to destroy her father's livelihood. Moved by her words, Ravi decides to cancel the debt but with a condition that Indu has to sign over her ancestral property to him.
Indu agrees to Ravi's demand, but her husband heinously manipulates the situation and conspires to take over the property. Indu, now a victim of her husband's cruelty, decides to leave him and return to her father's house. However, Anandan Nair is ashamed of his daughter's failed marriage and insists that she should return to Ravi.
Meanwhile, Mukundan, who had always been supportive of Indu, falls in love with her and proposes marriage. But Indu, still loyal to her husband, declines his proposal. Despite her loyalty, her husband never changes his behavior, and Indu is repeatedly subjected to his ill-treatment.
The plot thickens as the story progresses. Will Indu continue to suffer the injustices of Ravi or decide to walk out of the marriage? Will she find happiness with Mukundan or succumb to societal pressures? All these questions are answered in the emotional climax of the film.
The film boasts excellent performances by its lead actors, especially Balachandra Menon and Asokan, who deliver powerful performances. Sreevidya as Indu also gives a memorable performance as a woman torn between her loyalty to her husband and her conscience. The film's direction by Thampi Kannanthanam is realistic and grounded, and the narrative flows smoothly.
The film's music by Shyam and lyrics by Bichu Thirumala are some of the highlights of the movie. Songs like "Pournami Megham," "Orma Nammude," and "Manassu Mayakki" are still remembered fondly by fans of the Malayalam film industry.
Overall, Janmandharam is a classic film that explores the complexities of human relationships and the sacrifices that one must make for the sake of their family. It showcases how the obsession of material wealth can lead to the destruction of relationships and one's own happiness. It is a must-watch for fans of Malayalam cinema and lovers of drama films.
Janmandharam is a 1988 drama with a runtime of 2 hours and 20 minutes. It has received mostly poor reviews from critics and viewers, who have given it an IMDb score of 4.9.