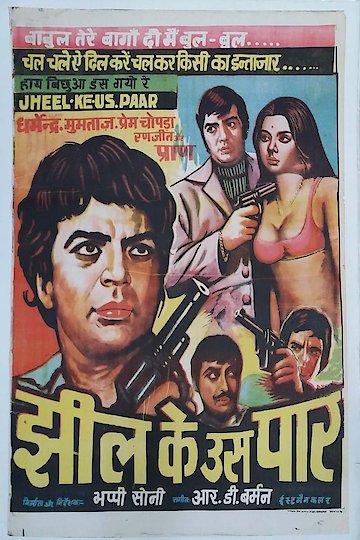 Watch Jheel Ke Us Paar
Jheel Ke Us Paar is a Bollywood film from 1973 that explores the themes of love, betrayal, and redemption. The movie stars Dharmendra, Mumtaz Askari, and Prem Chopra in lead roles, and was directed by Bhappi Sonie. The story of the film revolves around two lovers, Gopal (Dharmendra) and Radha (Mumtaz Askari), who live in a small village near a lake. Gopal is poor and works as a boatman, while Radha comes from a wealthy family. Despite the differences in their social status, the two fall deeply in love with each other.
However, their happiness is short-lived as Radha's father (Prem Chopra), who is against their relationship, forces her to marry a rich man from another village. Devastated by Radha's betrayal, Gopal leaves the village and starts a new life in the city. He works hard and eventually becomes a successful businessman, but he can never forget Radha.
Years later, fate brings them together again. Radha, now a widow and living with her son, comes to the city in search of a job. She meets Gopal, and the old flame reignites. However, Radha's father still opposes their relationship, and Gopal must fight to win the love and acceptance of the people around him.
The movie is shot in beautiful locations around the lake, and the music is a highlight of the film. The songs are melodious and capture the essence of the story, with romantic tracks like "Do Ghoont Mujhe Bhi Pila De" and soulful ballads like "Hamare Siva Tumhare Aur Kitne Deewane Hai".
Dharmendra delivers a powerful performance as Gopal, a man who has seen the worst of life but still holds on to hope and love. Mumtaz Askari also shines as Radha, a woman torn between her love and duty towards her family. Prem Chopra brings his signature intensity to the role of Radha's father, adding to the drama and conflict in the story.
Overall, Jheel Ke Us Paar is a classic Bollywood film that showcases the power of love and the strength of the human spirit. The movie leaves a lasting impression with its message about the importance of forgiveness, redemption, and the triumph of love over all obstacles.