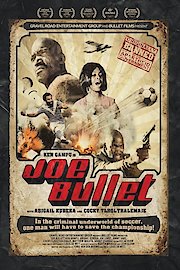 Watch Joe Bullet
"In the criminal underworld of soccer, one man will have to save the championship!"
NR
1973
1 hr 25 min
Joe Bullet is a South African action film released in 1973 and directed by Louis de Witt. The movie tells the story of a soccer team manager, Dan Poho, who hires Joe Bullet, a tough and fearless private detective, to protect his team from a group of criminals who are trying to fix the match. The film stars Ken Gampu as Joe Bullet, Joe Lopez as Dan Poho and Abigail Kubeka as the singer Abigail.
The movie takes place in the township of Doornfontein, Johannesburg, where Dan Poho manages a struggling soccer team called the Eagles. Poho is approached by a mysterious businessman who offers to help him win the next match by bribing the opposition team. Poho declines the offer, but the businessman does not take no for an answer and hires a group of henchmen to intimidate Poho and his team.
In desperation, Poho turns to Joe Bullet for help. Joe is a tough and resourceful private detective, who is also a skilled martial artist and marksman. Joe agrees to protect the Eagles and begins to investigate the threats against them. He discovers that the businessman is involved in illegal activities and has a personal grudge against Poho. Joe also learns that the opposition team has been paid to throw the match and decides to take matters into his own hands.
Joe and his team of allies, including the singer Abigail and a local police officer, launch a series of daring attacks on the criminals. They raid their hideouts, destroy their equipment and vehicles, and engage in fierce gun battles. Joe uses his skills to outsmart the henchmen and their leader, a ruthless hitman named Snake. In the meantime, Poho and the Eagles prepare for the game of their lives, determined to win it on their own terms.
The climax of the movie takes place at the soccer stadium, where the Eagles and their opponents face off in front of a packed crowd. Joe and his friends are there to ensure that the match is played fairly and that no one is hurt. However, the criminals have one last trick up their sleeve, and they attempt to sabotage the game with a deadly weapon. Joe must use all his skills and courage to stop them and save the day.
Overall, Joe Bullet is a fast-paced and entertaining action movie, with plenty of fights, chases, and explosions. The film has a distinct South African flavor, with its colorful characters and locations, and its depiction of the struggles and aspirations of the black community. The movie also has a catchy soundtrack, featuring Abigail Kubeka's vibrant songs and a funky score by legendary composer Chris McGregor. Joe Bullet is a rare gem of African cinema, and a must-see for fans of classic action movies.
Joe Bullet is a 1973 action movie with a runtime of 1 hour and 25 minutes. It has received moderate reviews from critics and viewers, who have given it an IMDb score of 5.5.