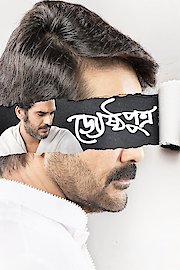 Watch Jyeshthoputro
"The Elder Son"
Jyeshthoputro is a 2019 Bengali drama film directed by Kaushik Ganguly, starring Daminee Benny Basu, Sreya Bhattacharya, and Ritwick Chakraborty. The film explores the strained relationship between two brothers, the older of whom is a successful actor, while the younger has chosen a simpler life as a homemaker. The story begins with the sudden death of the older brother, Ujaan (Ritwick Chakraborty), leaving his younger brother, Proshenjit (Prosenjit Chatterjee), to deal with the aftermath. Proshenjit, whose relationship with Ujaan was strained, is shocked by the news of his brother's passing, but finds himself thrust into the role of caretaker of his brother's legacy.
As Proshenjit sifts through Ujaan's belongings, he discovers a trove of letters and tapes that reveal Ujaan's true feelings about their relationship. Proshenjit is stunned by the revelations and struggles to come to terms with them.
The film then delves into Proshenjit's memories of the past, painting a picture of a childhood marked by loneliness and neglect. Ujaan, the older and more popular brother, is often away working, leaving Proshenjit to fend for himself. Proshenjit's mother, who is emotionally distant and preoccupied with her own struggles, offers little comfort. As a result, Proshenjit clings to his brother and idolizes him.
The plot thickens as we learn that Ujaan was living with his girlfriend, Labani (Daminee Benny Basu). The revelation shocks Proshenjit and leads to a confrontation between the two women. Labani pushes Proshenjit to confront his own feelings of jealousy and anger towards Ujaan, helping him to understand the complexity of their relationship.
As the story unfolds, we witness Proshenjit's transformation from a passive bystander to an active participant in the world around him. He confronts his own demons and learns to let go of his resentment towards his brother. The film's climax is a poignant scene in which Proshenjit finally comes to terms with Ujaan's passing and is able to move on with his life.
Overall, Jyeshthoputro is a compelling and deeply affecting film that explores the complexities of sibling relationships, family dynamics, and the nature of grief. The performances are exceptional, particularly Prosenjit Chatterjee's nuanced portrayal of Proshenjit, and the richly textured cinematography adds depth to the story. The film is a must-see for fans of Bengali cinema and anyone interested in exploring the human experience.