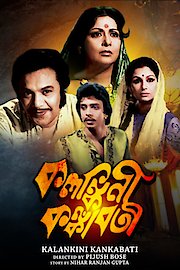 Watch Kalankini Kankabati
Kalankini Kankabati is a Bengali drama film released in 1981, directed by Uttam Kumar and starring Sharmila Tagore, Uttam Kumar, and Supriya Choudhury. It is a story of love, sacrifice, and the power of humanity in the face of social norms. The film follows the story of Kankabati (Sharmila Tagore), a young woman who is born into a lower caste family in a small village in Bengal. Despite the discrimination and oppression she faces, Kankabati is determined to get an education and make something of herself.
On a trip to Kolkata, Kankabati meets the wealthy businessman Arindam (Uttam Kumar) who is immediately drawn to her intelligence and determination. Despite the objections of his family, Arindam falls deeply in love with Kankabati and soon proposes to her.
However, after they get married, Kankabati soon realizes that she is not accepted by Arindam's family or society at large. Despite her efforts to fit in and be accepted, Kankabati is constantly reminded of her low caste status and is subjected to ridicule and discrimination.
As a result, Kankabati decides to leave Arindam and return to her village to continue her work as a teacher to young girls. There, she meets the young and idealistic Sanat (Anil Chatterjee), who is inspired by Kankabati's work and her dedication to education.
What follows is a story of love, sacrifice, and social justice, as the characters navigate the obstacles that come with their social status and fight against the deeply ingrained social norms that seek to keep them apart.
Throughout the film, the performances of the three leads - Sharmila Tagore, Uttam Kumar, and Supriya Choudhury - are outstanding. Sharmila Tagore brings depth and nuance to the role of Kankabati, portraying her with a quiet strength and dignity that makes her character incredibly compelling.
Uttam Kumar is equally impressive as Arindam, showing both his love for Kankabati and the struggles he faces in trying to reconcile his feelings with the expectations of his family and society. Supriya Choudhury is also excellent in her role as Arindam's sister-in-law, whose character provides a much-needed counterpoint to the intolerant attitudes of others around her.
Overall, Kalankini Kankabati is a powerful and moving film that explores some of the most pressing social issues of its time, including caste discrimination, education, and the role of women in society. With its compelling characters, complex relationships, and stellar performances, it remains a must-watch for fans of Bengali cinema.