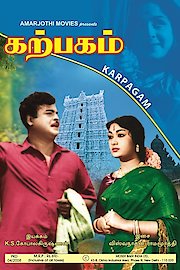 Watch Karpagam
Karpagam is a classic Tamil film from 1963. Starring Gemini Ganesan, Savitri, and K.R. Vijaya, the movie is a poignant tale of a woman's struggle to provide for her family and the sacrifices she makes for their sake. The film's plot revolves around Karpagam, played by Savitri, a young woman who lives with her mother and siblings in a small village. Karpagam is the sole breadwinner of the family, working as a weaver to make ends meet. Despite her best efforts, however, the family continues to struggle financially, and Karpagam begins to seek out ways to increase her income.
One day, Karpagam meets Ravi, played by Gemini Ganesan, a wealthy young man who is immediately smitten with her. Despite their different backgrounds, Karpagam and Ravi begin a romantic relationship, and he offers to help her financially. However, Karpagam is determined to provide for her family on her own and refuses Ravi's help.
As Karpagam's financial woes continue, she is forced to consider other options. She decides to leave her village and move to the city to find work, leaving her family behind. In the city, Karpagam faces numerous challenges, including sexual harassment and poverty. Despite the difficulties, she remains strong and determined to provide for her family.
Meanwhile, Ravi learns of Karpagam's struggles and begins to search for her. Along the way, he encounters K.R. Vijaya's character, a young woman who becomes infatuated with him. However, Ravi remains devoted to Karpagam and continues his search.
The film culminates in a heartwarming reunion between Karpagam and Ravi, and the two are able to build a life together. Throughout the movie, Karpagam's strength and determination in the face of adversity serve as a testament to the power of love and family.
Karpagam's enduring popularity can be attributed to several factors. For one, the film's storyline is both compelling and universal, touching on themes of family, sacrifice, and love. Additionally, the performances of the three leads are outstanding, with Gemini Ganesan and Savitri delivering particularly powerful performances.
Overall, Karpagam is a timeless classic that continues to resonate with audiences today. Its themes of love, family, and determination are universal, and its message of hope and perseverance in the face of adversity is as relevant today as it was when the movie was first released.
Karpagam is a 1963 drama with a runtime of 169 hours. It has received mostly positive reviews from critics and viewers, who have given it an IMDb score of 7.4.