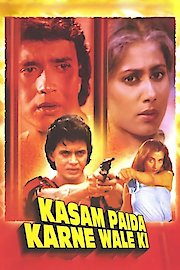 Watch Kasam Paida Karne Wale Ki
"I swear on my mother"
Kasam Paida Karne Wale Ki is an Indian Hindi action suspense film that tells the tale of greed and betrayal. A boy is orphaned and the sole beneficiary of his father's vast estate. He is put into the care of his uncle until he can inherit. The boy is manipulated and drugged into compliance while his uncle steals his wealth. Eventually, when he grows older he marries a woman only to be murdered for his wealth by his uncle after they conceive their child. The wife vows to avenge her husband's death, and she returns years later with their son.