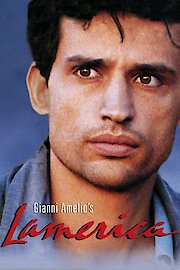 Watch Lamerica
1994
1 hr 56 min
Lamerica is a 1994 Italian film directed by acclaimed filmmaker Gianni Amelio. It is a powerful and poignant story that explores themes of identity, displacement, and the search for a better life. The film tells the story of Gino (Enrico Lo Verso) and Fiore (Michele Placido), two Italian businessmen who travel to Albania in the mid-1990s to launch a business venture. Upon reaching Albania, they discover that their plans have fallen through, and they are unable to return home. They find themselves stranded with no money or documents, and are forced to navigate the chaotic, post-communist landscape of Albania in search of a way out.
As they search for a way back to Italy, Gino and Fiore encounter a wide range of people, each with their own stories and struggles. They meet Chriss, a young boy who they take under their wing, and Sokol (Piro Milkani), a former prison inmate who becomes their guide and friend. They also encounter a variety of individuals, including desperate smugglers, corrupt policemen, and disillusioned workers.
Throughout the film, viewers are drawn into the complex and nuanced world of Albania, a country grappling with the aftermath of communism and struggling to forge a new identity in a rapidly changing world. The film captures the sense of dislocation and uncertainty that many people faced during this time, as they searched for a way forward in the wake of a tumultuous political and economic transition.
One of the most striking aspects of Lamerica is its visual style. The film is shot in a desaturated, almost monochromatic palette, which gives it a gritty, realistic feel. The camera often lingers on the faces of the characters, capturing their expressions and emotions in intimate detail. The film also makes effective use of sound, with a haunting score that underscores the sense of isolation and displacement that Gino and Fiore feel.
Overall, Lamerica is a deeply moving and thought-provoking film that explores important themes and issues relevant to our world today. It tells a powerful story of two men struggling to find their way home in a world that seems to have turned upside down, and reminds us of the importance of compassion, empathy, and human connection in the face of adversity.