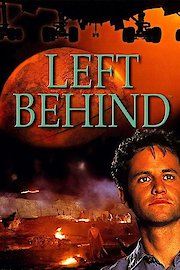 Watch Left Behind: The Movie
"The Future Is Clear."
PG-13
2000
1 hr 37 min
22
This movie represents the first in a series of films that were based on the popular Christian books written by Tim LaHaye and Jerry B. Jenkins. The film deals with the prophecy as told in the Book of Revelations of the Holy Bible. The scripture tells of a time when those who are followers of Christ will be raptured into Heaven, leaving all the unbelievers behind to live through a great tribulation. The film stars the outspoken Christian actor Kirk Cameron. Cameron plays Buck Williams, a journalist, who is following events as they unfold in the Middle East. The film was produced by Cloud Ten Productions, a film company that has produced many other Christian films. Interestingly, the film was first marketed to the home video audience in order to create a word-of-mouth following. This home release was then followed by a theatrical release the following year. The film deals with the lives of everyday people and how they react to the inexplicable events of the Rapture. The crux of the story revolves around an airline pilot named Rayford Steele, who is played by Brad Johnson. Steele has a marriage that is on the rocks and decides to have an affair. Meanwhile, his wife becomes increasingly devoted to studying her Bible and taking part in her church. During a flight, many of the passengers disappear as events on the ground become extremely chaotic. People disappear around the globe, causing many accidents and disasters. Their remaining family and loved are left to ponder the events and choose whether to believe the prophecy or the explanations that are being given by the governments and media empires of the world. The characters of film slowly become intertwined as each begins to realize or deny the reality of the Scriptures that are being explained in the Bible. The film sets the stage for the sequels that deal with the rise of the One World Government of the Beast and the rest of the events of the Tribulation Period.