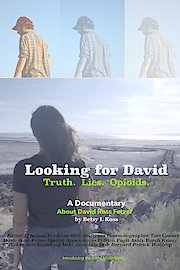 Watch Looking for David
Part mystery, part love story, and part societal critique, "Looking for David" follows a mother as she probes the whys and hows after finding her charismatic son - an actor, director, producer, and musician - dead. Both a devastatingly personal and all-too-universal film, "Looking for David" provides a searing look into our naiveté about opioid addiction.
Looking for David is a 2017 documentary with a runtime of 1 hour and 17 minutes.