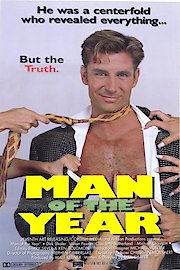 Watch Man of the Year
"He as a centerfold who revealed everything ... but the truth."
1995
1 hr 26 min
Dirk does not reveal to Playgirl Magazine that he is gay when he wants to be a centerfold. He sends in a picture of himself that will help him get the centerfold and eventually the Man of the Year. With the help of his female friend, he devises fake interviews to make himself look even better. His boyfriend is giving him a hard time, wanting Dirk to reveal that he is gay. The boyfriend is tired of living the lie that Dirk has created. There is trouble when Dirk gets more involved in his role as a Playgirl icon, and he has many decisions to make along the way.