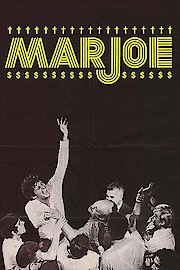 Watch Marjoe
"You Keep the Faith...Marjoe Keeps the Money"
PG
1972
1 hr 28 min
Directed by Howard Smith and Sarah Kernochan, Marjoe is a 1972 documentary exploring the life of Marjoe Gortner, a young and charismatic preacher who travels throughout America conducting revival meetings. From the outside, Marjoe appears to be a true believer, delivering fiery sermons and performing faith healings with a zeal and passion that captivates his audience. However, as the film peels back the layers of his public persona, a different story emerges.
Born into a family of Pentecostal preachers, Marjoe was raised to be a performer, learning the tricks of the trade from a young age and honing his skills as a preacher from the age of four. By the time he reaches adulthood, he is a seasoned showman, able to rouse crowds to fevered heights with his charismatic oratory and theatrics. It is, however, a performance that is rooted in cynicism rather than faith. As Marjoe himself puts it, "I know what sells."
The film provides a glimpse into the mechanics of the revival circuit, showing the backstage dealings and the financial arrangements that underpin the preaching business. We see Marjoe and his handlers organizing their next tour, as they make deals with local promoters and count the money from their collection plates. We also get to meet some of Marjoe's most dedicated followers, who speak passionately about the power of his ministry and their own experiences of miraculous healings.
As the film progresses, however, it becomes clear that Marjoe's own faith is increasingly at odds with the cynical world of revival preaching. We see him wrestling with doubts and guilt, as he questions the value of what he is doing and the sincerity of his own beliefs. Finally, he decides to make one last tour, with a camera crew in tow, and reveal the reality behind the revival circus.
The resulting film is a fascinating and often uncomfortable look at the intersection of faith and commerce. The camera captures the raw energy and emotion of Marjoe's performances, but also exposes the artifice and manipulation that underlies them. We see Marjoe manipulating crowds with carefully choreographed routines, using emotional triggers and persuasive tactics to extract money and devotion from his followers. At the same time, we witness his own struggles with the nature of his work, as he ponders the ethics of exploiting people's faith for personal gain.
One of the most striking features of the film is Marjoe himself. Charismatic and compelling, he is a natural performer who exudes confidence and charm. But as the film progresses, we see the cracks in his facade, as he becomes increasingly disillusioned with what he is doing. Despite his doubts and conflicts, however, he refuses to fully disavow the world of revival preaching, recognizing that it is a source of both income and identity for him.
Overall, Marjoe is a powerful and thought-provoking documentary that offers a rare glimpse into the world of American revival preaching. Through its intimate portrait of a preacher who has lost faith in his own message, it raises important questions about the nature of belief, spectacle, and exploitation.
Marjoe is a 1972 documentary with a runtime of 1 hour and 28 minutes. It has received mostly positive reviews from critics and viewers, who have given it an IMDb score of 7.5.