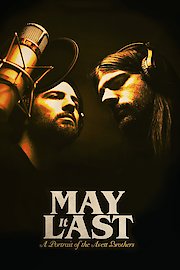 Watch May It Last: A Portrait Of the Avett Brothers
"A story of life in harmony."
NR
2017
1 hr 44 min
May It Last: A Portrait of the Avett Brothers (2017) is a documentary film directed by Judd Apatow and Michael Bonfiglio that follows the journey of the famous folk-rock band The Avett Brothers. The film features the two main members of the band, Scott Avett and Seth Avett, as well as other members of the band and their family members. It takes a close look at the music they produce and the creative process behind it, as well as how their personal lives and relationships affected their music.
The film begins by introducing the audience to the band members' roots and how they got started in music. We get to see footage of them performing in small venues and recording their first albums. The film then follows their journey as they became more successful and eventually signed a record deal with a major record label. It explores their struggle to balance their newfound popularity with their family life and the creative process.
Throughout the documentary, the Avett Brothers reflect on the meaning behind their music and the inspiration behind their lyrics. We get to see them writing and rehearsing new songs, preparing for concerts, and performing live on stage. The film showcases their unique sound, which fuses elements of folk, country and rock music, and takes a closer look at their songwriting process.
The filmmakers also explore the band members' personal relationships and how they have influenced their music. We see Scott and Seth's close bond, as well as their relationships with their family members, and how they have served as muses for their creative work. The film delves into their struggles with addiction and how it has affected their lives and their music.
May It Last is a touching portrait of the Avett Brothers, who are known for their heartfelt and soulful music. The film offers a glimpse into their world and shows the hard work and dedication that goes into creating their music. It is a must-see for any fan of the band, as well as for anyone who is interested in the creative process behind music-making.
Overall, May It Last: A Portrait of the Avett Brothers is a thoughtful and engaging documentary that captures the spirit of the band and their music. It is a testament to their talent and to the power of music to bring people together and to express the complexities of the human experience.
May It Last: A Portrait Of the Avett Brothers is a 2017 music movie with a runtime of 1 hour and 44 minutes. It has received mostly positive reviews from critics and viewers, who have given it an IMDb score of 8.3.