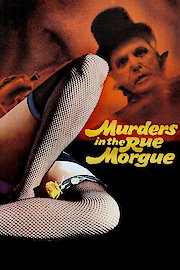 Watch Murders in the Rue Morgue
"LOVE and MURDER are the two consuming passions of the Rue Morgue!"
PG-13
1971
1 hr 38 min
Murders in the Rue Morgue is a 1971 horror film directed by Gordon Hessler and starring Jason Robards, Herbert Lom, and Christine Kaufmann. The movie is a loose adaptation of Edgar Allan Poe's short story of the same name and features a mysterious murderer terrorizing the streets of Paris. The story begins with a group of performers, including a knife-thrower named Renaldo (Michele Mercier), arriving in Paris for a carnival. While in town, they witness the murder of a young woman and become embroiled in a string of similar crimes that occur throughout the city. They are soon approached by the brilliant but eccentric Dr. Marais (Jason Robards), who believes that he can solve the case with his advanced scientific methods.
As Dr. Marais investigates the murders, he becomes convinced that the killer is an ape-like creature that has escaped from the zoo. His colleague, Dr. Evans (Herbert Lom), disagrees with this theory and insists that the killer must be a human. Meanwhile, the performers become increasingly worried for their safety as they become targets of the murderer.
Throughout the film, there are several suspenseful and intense scenes that keep the audience on the edge of their seats. The murder scenes are particularly gruesome for the time period, showing the killer mutilating his victims in a brutal manner. However, the movie is also balanced with moments of humor, mainly coming from the antics of the performers and their interactions with Dr. Marais.
As the story progresses, Dr. Marais becomes romantically involved with Camille (Christine Kaufmann), a member of the troupe who has been accused of being linked to the murders. Together, they work to uncover the truth behind the killings and bring the real killer to justice.
One of the standout elements of the film is the impressive make-up and costume design used to create the ape-like creature. Although the special effects may seem dated by today's standards, they were quite innovative for the time and contributed to the film's overall unnerving atmosphere. Additionally, the movie makes great use of its Parisian setting, creating an eerie and claustrophobic atmosphere that enhances the sense of danger.
Overall, Murders in the Rue Morgue is a solid horror film that blends elements of mystery, suspense, and humor to create a uniquely entertaining experience. The performances from the cast are strong, with Robards delivering an excellent portrayal of a scientist driven to solve the case at all costs. The film's ending is satisfying and wraps up the story nicely, leaving the audience with a sense of closure.
Murders in the Rue Morgue is a 1971 crime movie with a runtime of 1 hour and 38 minutes. It has received moderate reviews from critics and viewers, who have given it an IMDb score of 5.2.