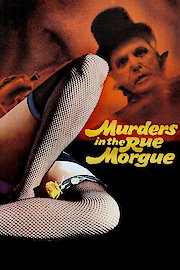 Watch Murders in the Rue Morgue
"LOVE and MURDER are the two consuming passions of the Rue Morgue!"
PG-13
1971
1 hr 38 min
Murders in the Rue Morgue is a 1971 American horror film. It is very loosely based on the Edgar Allen Poe story of the same name, but it also borrow elements from The Phantom of the Opera. Set in Paris of the early 20th century, the film tells of a theatrical troupe who specialize in bloody horror plays akin to those seen in the Grand Guignol. They are currently playing an adaptation of Poe's Murders in the Rue Morgue, while being menaced by a former actor who was disfigured and left for dead after a horrible accident.