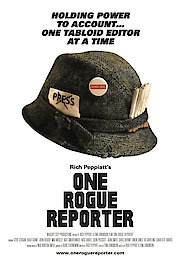 Watch One Rogue Reporter
NR
2014
1 hr 1 min
One Rogue Reporter is a 2014 British documentary film directed by Tom Jenkinson. The film follows the story of dysfunctional British journalist Rich Peppiatt, who, after working for a while, decides to quit his job at the Daily Star, a tabloid newspaper in the United Kingdom. Peppiatt's decision arises after realizing the unethical practices of the tabloid press. In quitting, he sets out to expose the corrupt practices of the media industry, including phone hacking, chequebook journalism, and invasion of privacy among other things.
One Rogue Reporter is based on Peppiatt's own experiences as a journalist and his quest to expose the truth. The documentary aims to expose how the media twists and manipulates stories to sell papers and to uncover the unethical practices employed to achieve this goal. The film features interviews with media insiders, journalists, and politicians who provide insights into the workings of the media and the damage it inflicts on society.
The documentary is set up in a mix of interviews, archive footage, and commentary from Peppiatt himself. We see him invading celebrities' privacy, editing photographs, and even working with a psychic medium to prepare for a story. Peppiatt explains that the pressure to provide sensational stories takes a toll on journalists who feel that their jobs are on the line if they do not deliver.
One Rogue Reporter features a high-profile cast that includes British comedian and actor Steve Coogan, Labour Party politician Chris Bryant, and comedian John Bishop. These personalities add an extra dimension to the film as they provide their own perspectives on media coverage and the impact it has had on their personal lives.
The film is provocative, well-researched, and engaging, and it provides a critical analysis of the tabloid industry. The documentary also aims to inspire change by showing the public the consequences of the media's unchecked power. It examines the impact of the media on political and social attitudes, highlighting the deliberate manipulation of public opinion by tabloid newspapers in the United Kingdom.
One Rogue Reporter is a must-watch for anyone interested in the media and its influence on society. It provides an eye-opening account of the unethical practices that exist in the industry and the danger they pose to democracy.
Overall, One Rogue Reporter is an entertaining and insightful film that exposes the vulnerabilities of the mainstream media. It challenges the established norms of the industry and calls for change. Through compelling storytelling and well-placed satire, the film provides a sobering account of the dangers faced by freedom of the press and urges the public to engage in their own critical thinking when consuming media.
One Rogue Reporter is a 2014 comedy with a runtime of 1 hour and 1 minute. It has received mostly positive reviews from critics and viewers, who have given it an IMDb score of 7.1.