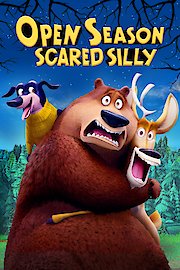 Watch Open Season: Scared Silly
"Elliot is on an adventure to take the Boo out of Boog!"
PG
2015
1 hr 25 min
Open Season: Scared Silly is a 2015 animated comedy film directed by David Feiss, written by Carlos Kotkin, and produced by Sony Pictures Animation. The film revolves around Elliot, the lovable yet blundering deer, and his woodland friends as they embark on a hair-raising adventure to save their home from an evil exterminator who is out to destroy it. When their beloved Timberline National Forest becomes the target of a sinister plot, Elliot and his pals come together to stop the madness and save the day.
In this fourth installment of the Open Season series, Elliot, voiced by Will Townsend, tries to convince his friends that the rumors of Boogeyman in Timberline National Forest are nothing more than a myth. But when the rumors turn out to be true, Elliot and his friends must use all their courage and cunning to stay alive and stop the Boogeyman from destroying their home.
Joining Will Townsend in the voice cast are Donny Lucas, who portrays the surly squirrel McSquizzy, and Melissa Sturm, who plays the loquacious Giselle. The voice actors do an outstanding job of bringing their characters to life, infusing each one with unique personalities and quirks that make them all the more endearing.
What makes Open Season: Scared Silly such an enjoyable movie is its blend of comedy, adventure, and heartwarming moments. The movie is filled with laugh-out-loud jokes and wacky antics, from Elliot's clumsy mishaps to McSquizzy's sarcastic comments. But at its core, the film is a story about friendship and loyalty, as Elliot and his friends band together to protect their home and each other.
The animation in the movie is also top-notch, with bright, vivid colors and fluid movements that bring the woodland creatures to life in a charming and whimsical way. The attention to detail is impressive, from the swaying branches of the trees to the fluttering of the butterflies. The forest environment is so beautifully designed that it becomes a character in its own right, adding to the magical and immersive experience of watching the film.
One of the standout features of Open Season: Scared Silly is its soundtrack, which is filled with catchy tunes and fun songs that perfectly complement the story and characters. The musical numbers are a delight to watch, with colorful visuals and energetic dance moves that will have both kids and adults tapping their feet.
Overall, Open Season: Scared Silly is a delightful family-friendly movie that is sure to entertain viewers of all ages. With its hilarious humor, heartwarming story, and outstanding animation, it is a worthy addition to the Open Season franchise.
Open Season: Scared Silly is a 2015 animated movie with a runtime of 1 hour and 25 minutes. It has received mostly poor reviews from critics and viewers, who have given it an IMDb score of 5.0.