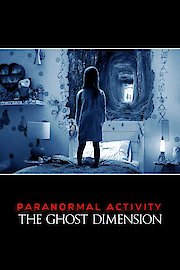 Watch Paranormal Activity: The Ghost Dimension
"You can't save them. All you can do is watch."
R
2015
1 hr 28 min
30
Paranormal Activity: Ghost Dimension is a horror movie. It is the sixth in a series of films where the viewer watches the haunting of a family by a mysterious force through the eyes of a camera. The film is about the effect on a family when something powerful and unexplained starts to cause problems for them. As with previous movies in the series, the family is moved to help each other get through their ordeals, but when the force is seen to be too strong for them, they recruit outside help. As it is a horror movie, there are plenty of moments in the film that would cause a case of the shivers. In one scene, a man and his brother are watching video tapes from years ago, only to find that the little girls that were being filmed somehow know that they are there. This scene shows the viewers that there is something very wrong going on. This is expanded upon earlier, when it was revealed that the man's daughter has an imaginary friend that she talks to named "Toby." The story is told in the present day, although the film opens with a scene from a previous movie. This signals that the film will delve into the fictional past of the important characters of the series. The premise of the film has always been a kind of a mystery, leaving viewers to ask questions. Why are these things happening? Why are these people being targeted? As the final Paranormal Activity movie, it will aim to answer some of those questions.