Watch Paranormal Activity: The Ghost Dimension
"You can't save them. All you can do is watch."
Paranormal Activity: Ghost Dimension is a horror movie. It is the sixth in a series of films where the viewer watches the haunting of a family by a mysterious force through the eyes of a camera. The film is about the effect on a family when something powerful and unexplained starts to cause problems for them. As with previous movies in the series, the family is moved to help each other get through their ordeals, but when the force is seen to be too strong for them, they recruit outside help.
As it is a horror movie, there are plenty of moments in the film that would cause a case of the shivers. In one scene, a man and his brother are watching video tapes from years ago, only to find that the little girls that were being filmed somehow know that they are there. This scene shows the viewers that there is something very wrong going on. This is expanded upon earlier, when it was revealed that the man's daughter has an imaginary friend that she talks to named "Toby."
The story is told in the present day, although the film opens with a scene from a previous movie. This signals that the film will delve into the fictional past of the important characters of the series. The premise of the film has always been a kind of a mystery, leaving viewers to ask questions. Why are these things happening? Why are these people being targeted? As the final Paranormal Activity movie, it will aim to answer some of those questions.
|
2015
|
1 hr 28 min
|

/

10
Cast

Studio

Director

Gregory Plotkin

Language

English
More Like Paranormal Activity: The Ghost Dimension
Paranormal Activity: The Ghost Dimension News
Weekend Box Office: Martian Beats the Newcomers
October 26, 2015 @ 4:33 am PST
|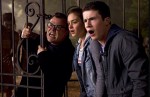 The bumper crop of new movies this past weekend was supposed to get theatergoers excited about all the new choices, but all it really did was renew their enthusiasm for a movie that's been out for a month already.
Read More

New Movies October 23: Witch Hunt, Paranormal Activity and Holograms
October 21, 2015 @ 6:17 am PST
|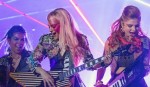 Another weekend full of new movies will test the space limitations of movies theaters across the nation, and competition for ticket dollars is going to be brutal.
Read More


Watch Paranormal Activity: The Ghost Dimension Trailer

Paranormal Activity: The Ghost Dimension
|
0:03
Watch Paranormal Activity: The Ghost Dimension Online - Watch online anytime anywhere: Stream, Buy, Rent
Paranormal Activity: The Ghost Dimension is currently available to watch and stream, buy, rent on demand at FlixFling VOD, Amazon, Vudu, Google Play, FandangoNow, YouTube VOD, iTunes online.