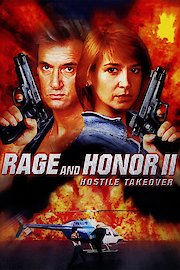 Watch Rage and Honor II
"The body can be a deadly weapon... When the body is a lethal weapon."
R
1993
1 hr 38 min
Rage and Honor II is a 1993 action film directed by Guy Norris and starring Cynthia Rothrock, Richard Norton, and Patrick Muldoon. The movie is a sequel to the 1992 film, Rage and Honor. The story follows Kris Fairchild (Cynthia Rothrock), a tough cop who is partnered with Jonathon Cross (Richard Norton), a former CIA agent turned mercenary. Together, they go on a mission to stop a group of terrorists who are attempting to steal a top-secret weapons system from the United States government. As they investigate, Kris and Jonathon come across a number of obstacles that put their lives in danger. They soon find themselves facing off against a ruthless gang of criminals, who will stop at nothing to achieve their goals. Throughout the film, Rothrock and Norton showcase their impressive martial arts skills, performing stunts and fight scenes that are both thrilling and intense. The action is fast-paced and exciting, with plenty of explosions and gunfire to keep viewers on the edge of their seats. One of the standout moments in the film is a fight scene between Rothrock and Norton that takes place in a parking garage. The two performers engage in a high-energy brawl that demonstrates their abilities as martial artists and entertainers. In addition to the action, the movie also explores themes of loyalty, trust, and betrayal. The relationship between Kris and Jonathon is central to the story, as they learn to put aside their differences and work together to achieve their goals. The film also features a strong performance from Patrick Muldoon, who portrays a young computer expert that becomes embroiled in the terrorists' plot. Overall, Rage and Honor II is an entertaining action film that delivers plenty of thrills and excitement. The combination of martial arts, gunfire, and explosive action makes for a thrilling viewing experience that is sure to satisfy action movie fans.