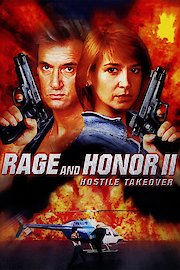 Watch Rage and Honor II
"The body can be a deadly weapon... When the body is a lethal weapon."
R
1993
1 hr 38 min
Rage and Honor II (1993) is an action crime drama movie starring Cynthia Rothrock (Kris Fairchild) and Richard Norton (Preston Michaels). In the movie Ms. Fairchild decides to work for the CIA and quits her job as a teacher. After completing two years of training she is then awarded her first assignment which involves her going to Jakarta to investigate a bank robbery. As soon as she arrives to the scene of the crime she learns her partner was to be killed by bank president Gerald Andrews. She even found that Andrews was transforming illegal money into legitimate funds as part of an alliance with crime lord Buntao. While Buntao and his goons continue to collect protection money at Willy's a local bar owned by Preston Michaels, they find themselves under attack by Mr. Michaels. During this time Tommy Andrews become fascinated by Michael's skills and asks for Michael to teach him.