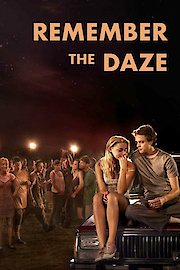 Watch Remember the Daze
"A perfectly good year... wasted."
Remember the Daze is a coming-of-age film set in the summer of 1999. Directed by Jess Manafort, it stars an ensemble cast led by Katrina Begin, Charles Chen, and Melonie Diaz, along with Leighton Meester, Amber Heard, and Alexa Vega. The film is set in a suburban high school in Texas, where a group of seniors are about to graduate and move on to college. But before that, they decide to make the most of their remaining days in school, as well as the freedom and opportunities of teenage life. The characters are introduced through a series of vignettes that showcase their personalities, quirks, and struggles. There's Holly (Begin), a popular and ambitious prom queen candidate who balances her duties with her own desires; Brian (Chen), a nerdy and lovelorn student who wants to confess his feelings to his crush; and Alexa (Diaz), a rebellious and artistic girl who uses drugs and sex to escape her troubled family life. The other characters include: Dawn (Meester), Holly's best friend who's secretly in love with her; Tori (Heard), a cheerleader who fakes her way through school and parties hard; and Frankie (Vega), a tomboy who wants to prove herself as a wrestler and a woman. As the summer progresses, the characters face various challenges and dilemmas that test their friendships, values, and identities. They deal with love, betrayal, peer pressure, family conflicts, and the uncertainty of the future. But they also enjoy the simple pleasures of life, such as hanging out with friends, driving around town, listening to music, and watching the sunset. The film captures the mood, fashion, and culture of the late 90s, with its eclectic soundtrack, colorful costumes, and nostalgic references. It also portrays the diversity and complexity of teenage life, with its mix of humor, drama, and tragedy. The characters are flawed and relatable, with their own strengths and weaknesses, joys and sorrows. Overall, Remember the Daze is an enjoyable and poignant film that explores the themes of youth, identity, and change. It reminds us of the fleeting nature of time and the importance of cherishing our memories and relationships. It also showcases the talent and potential of its young cast, who deliver natural and engaging performances.