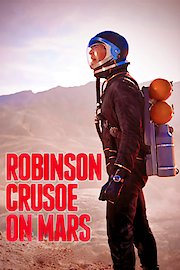 Watch Robinson Crusoe on Mars
"One U.S. astronaut pitted against all the odds beyond this earth!"
NR
1964
1 hr 50 min
In the 1964 film "Robinson Crusoe on Mars," directed by Byron Haskin and starring Paul Mantee, Victor Lundin, and Adam West, the viewer is taken on a thrilling journey to the red planet. This science fiction adventure film follows astronaut Kit Draper (Mantee) and his fellow crewmember Dan McReady (Lundin) as they crash land on Mars and struggle to survive in the harsh environment. The film begins with an intense sequence as the two astronauts are forced to eject from their spacecraft as it hurtles toward Mars. Draper and McReady barely survive, only to find themselves stranded on the desolate planet with limited resources. The first half of the movie focuses on the duo's struggle to survive, as they must scavenge for food, water, and shelter while avoiding dangerous alien creatures. Faced with isolation and desperation, Draper begins to lose his mind, leading to some intense and suspenseful scenes. Meanwhile, McReady is captured by the planet's only other inhabitant, a slave trader named Friday (West), who becomes an unlikely ally to Draper. As the movie progresses, Draper and Friday work together to find a way off the planet and back to Earth while McReady remains in captivity. The pair uncovers a network of tunnels under the planet's surface, which they hope will lead them to a spaceship that they can use to escape. Along the way, they encounter a number of obstacles, including dangerous underground fires and treacherous terrain. The film features stunning visuals and impressive special effects, especially considering that it was made in 1964. The Martian landscapes and creatures are both eerie and captivating, easily capturing the imagination of the viewer. The use of color and lighting is also impressive, adding to the otherworldly atmosphere. In addition to the visuals, the performances are impressive as well. Mantee delivers a strong performance as the increasingly unhinged Draper, conveying the character's fear, desperation, and isolation effectively. Lundin's portrayal of McReady is also noteworthy, as he is forced to communicate with Friday using a made-up sign language after losing his voice in the crash. West's character, Friday, adds a layer of humor to the film, with his exaggerated mannerisms and dialogue providing some much-needed levity. The relationship that develops between Draper and Friday is one of the film's highlights, showing that even the most unlikely of friendships can form in the face of adversity. Overall, "Robinson Crusoe on Mars" is a thrilling and suspenseful adventure film that still holds up over half a century after its release. With its unique plot, stunning visuals, and impressive performances, it remains a classic of the science fiction genre. If you're a fan of old-school sci-fi, "Robinson Crusoe on Mars" is a must-watch.