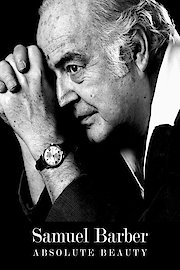 Watch Samuel Barber: Absolute Beauty
"A documentary about the composer of the Adagio for Strings"
2017
2 hr 10 min
Known for his mournful Adagio for Strings, Samuel Barber was never quite fashionable. This film is a probing exploration of his music and melancholia. Performance, oral history, musicology, and biography combine to explore the life and music of one of America's greatest composers. Featuring Thomas Hampson, Leonard Slatkin, Marin Alsop and many more of the world's leading experts on Barber's music.