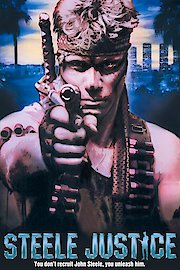 Watch Steele Justice
"The only law is the Black Tiger's. The only justice is John Steele's"
R
1987
1 hr 36 min
Steele Justice is about the story of a Vietnam Veteran named John Steele, who has had trouble getting used to dealing with a life after war. After the war, he hasn't had the ability to keep a job any longer than a few days. One day, his best friend, Lee, was brutally murdered by a group of drug dealers while he was investigating a case as a police officer. However, John rescues his daughters from one of the thugs that killed his friend, but he then notices that one of the shooters that held his daughter capture is actually the son of General Kwan. General Kwan served with him in Vietnam, who now runs a dirty underground business dealing with shady deeds. John begins to suspect that General Kwan might have murdered his best friend, so he tries to find a way to question him but unfortunately Kwan has become an extremely well respected member of his team. John does whatever he can to uncover the truth behind who killed Lee and capture Kwan.